The Wilson Evolution basketball is the number one selling indoor basketball in the US for many good reasons. Firstly, this ball's feel is excellent that most people can't describe, but it's the cover that provides the natural feel.
Secondly, it provides maximum control with the ball's material and, of course, the channel's texture. Lastly, this ball comes in six different colors so that you can easily match your Jersey or style. Let's look at the Wilson Evolution indoor basketball reviews to make your buying decisions easier.
Wilson Evolution Basketball Review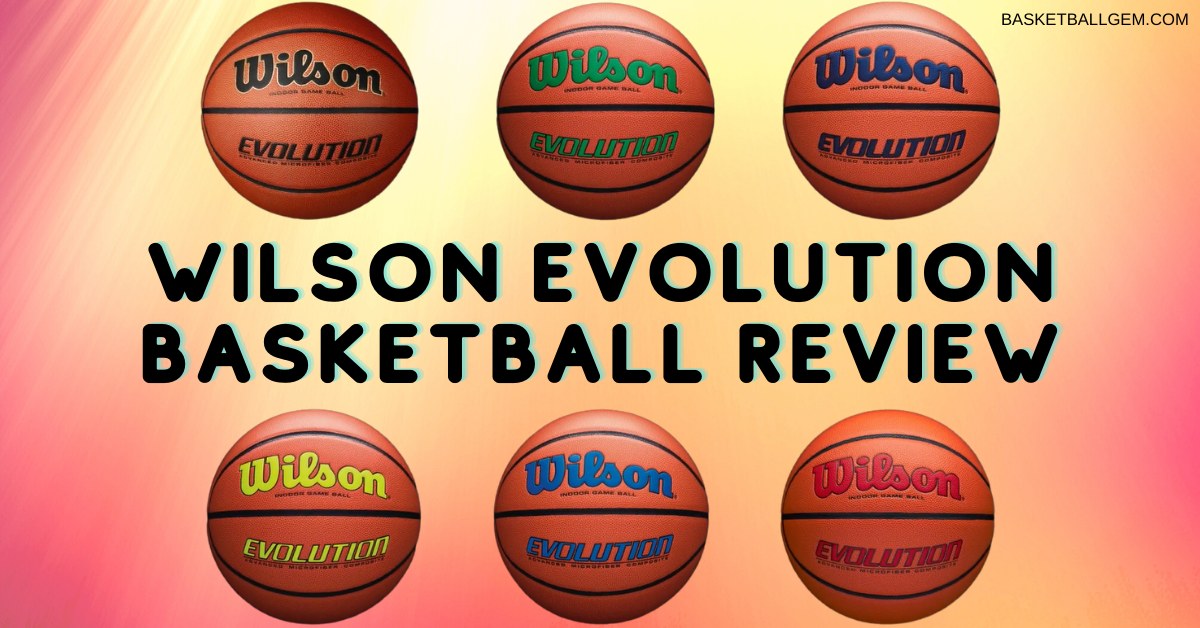 Actual hoopers know the tech behind the Wilson Evolution Basketball. This ball earned a strong recommendation from professionals because of its exceptional performance. Moreover, this Wilson Evolution basketball review and guide will clarify all your questions about it, so stay tuned.
The grip of Wilson Evolution Basketball:
Wilson Evolution basketball series focused on the grip and used superior grip micro pebbles Technology that helps in the comfortable ball landing into your palm. Moreover, this ball passed the wet-hand test because its more profound moisture-wicking technology improves its grip.
Furthermore, this Wilson Evolution advanced microfiber composite leather basketball provides you with the proper grip and total control. Mainly, this ball is pleasant to catch because of the "cushion core carcass" that provides grip and feel balance.
Bounce:
In a professional game like basketball, the consistency of the ball's bounce isn't negotiable. Therefore, this ball passes all the bounce consistency tests without any deviation of results.
Moreover, the results show no deflation at all with more than average strength of bounces. In addition, the Wilson Evolution series uses the cushion core Technology that provides superior bounce.
The durability of Wilson Evolution Basketball:
This natural feel Wilson Evolution high-quality basketball is very durable and lasts for multiple seasons. Moreover, one negative is that you can't use this ball on rough outdoor surfaces because its cover starts wearing away slowly like any other basketball. Furthermore, if you will use it indoors, its lifespan would be many years with a good air retention level.
Related: List of Top 10 Indoor Basketball
Available Size:
Currently, the Wilson Evolution basketball is available in three different sizes.
Youth (27.5 Inches): Suitable for Males & Females below 8
Intermediate (28.5 Inches): Suitable for Males 9-11 and Females 9+
Official (29.5 Inches): Suitable for Males 12+ – Pro
Weight:
Wilson Evolution basketball's weight is slightly more than the NBA Official game ball weight, which is 1.37 lb and approximately equal to other Composite leather basketballs. So the assembled product weight is 1.55 lb.
Color:
Wilson Evolution is available in six different colors so that you can choose your favorite one according to your style.
The budget of Wilson Evolution Basketball :
The indoor basketball manufacturing process is a little complex and requires expensive materials because they are softer than outdoor basketball. Well, it's a little pricey but worth every penny. You can check its latest price below.
Frequently Asked Questions (FAQ's)
1. Is Wilson a good basketball brand?
Yes! Wilson exits to ignite the true potential of every Athlete in the world. Therefore, they produce high-quality basketballs to keep up their manifesto and customer satisfaction.
2. How do you break in Wilson Evolution Basketball?
You can break in the Wilson Evolution basketball by playing it outdoors on uneven surfaces regularly.
3. How much does a Wilson Evolution basketball weigh?
The assembled product weighs 24.8 ounces that is almost equals to other Composite leather basketballs. This ball's weight is slightly more significant than the NBA official game ball that is 22 ounces.
4. Is Wilson Evolution the best basketball?
Yes! If you are hunting for top-notch indoor basketball, then no one can beat Wilson Evolution basketball. This high-quality ball is number selling indoor ball in the United States.
5. Can you use a Wilson Evolution outside?
No! We don't recommend using Wilson Evolution basketball playing outdoors because doing so will affect this ball's integrity. You can try Wilson NCCA Indoor/Outdoor basketball for playing outside.
6. Why is the NBA switching from Spalding to Wilson?
Spalding basketballs are more rubbery, which makes dribbling and shooting a little challenging. Moreover, the Wilson basketballs are smooth, soft, easy to dribble and shoot even from long distances. That's why the NBA is switching from Spalding to Wilson.
Concluding this guide, Wilson Evolution basketballs have completely win-win conditions. Moreover, the Composite leather material enhances its consistency even in moist conditions.
Furthermore, it's excellent basketball whether you need it for practice or severe competition. Significantly, Wilson Evolution basketball's softness, feel, and grip makes it the popular indoor basketball.