The best basketball shoes for wide feet can be hard to find without compromising on performance and comfort. The majority of performance shoes run narrow for a snug fit. 
Therefore, such pairs don't fit perfectly for wide-footed people and feel uncomfortable. A player's performance depends on the right size and comfort of their shoes. 
Often, large-footed athletes purchase a half-size larger because of their wide feet. But the wide basketball shoes must offer the perfect fit to avoid injuries and achieve the best performance. 
We have reviewed the top 10 basketball shoes for wide feet, so you don't need to rummage through the market but instead play the game with the right shoes that give maximum comfortability, support, cushioning, and feel.
Editor's Choice
Peak Streetball Master
9.7/10
Best Traction Wide Basketball Shoe
Under Armour Jet 2019
9.6/10
Best Youth basketball shoes for wide feet
Li-Ning Wade All City 8
9.5/10
Best Cushioning Wide Basketball Shoes
Best Basketball Shoes For Wide Feet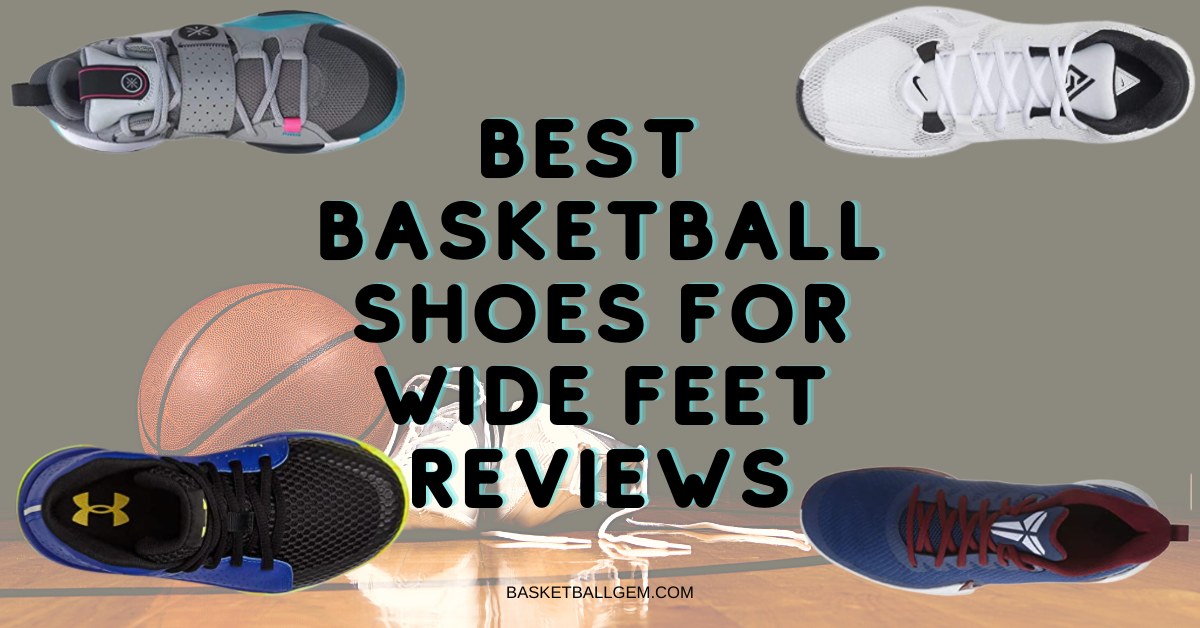 List of Top 10 Basketball Shoes For Wide Feet
Lining shoes have a textile synthetic leather upper, making them durable and breathable. In addition, the outsole is anti-slip and wearable, which improves grip ability.
Additionally, the EVA midsole helps to reduce the weight of the shoe, so it feels light and comfortable when worn. Special grooves in the rubber sole make them skid-resistant and wear-resistant. 
In the stadium, the shoe's midsole produces rebound energy with new cushioning technology that helps increase performance by effectively absorbing landing impact forces. 
Moreover, the wrapping performance is enhanced by the Velcro straps on the upper. Although no premium materials are used, the Wade brand and Li-Ning have combined their expertise to create a very well-made shoe. 
It feels as though the All-City 8 was designed with care, despite its traditional textile overlays, fuse, and synthetic materials. Overall, this shoe looks like a great team shoe since there is something a little bit of everything for everyone without being heavily geared toward any one style.
This stylish mid-top basketball shoe by Under Armour is designed for men and women. The shoe is constructed of both textile and leather, breathable support, and a trendy upper. 
This ride is smooth and responsive, thanks to an EVA foam cushion underfoot. Moreover, enhanced cushioning and support come from the lightweight die-cut EVA sock liner. 
Furthermore, the rubber outsoles with unique traction patterns on the UA basketball shoes provide enhanced grip. During lateral movements, its traction pattern offers maximum grip. It features an internal cleat design that ensures a comfortable and secure fit. 
Lace-up closures and an internal heel counter give this pair of Under Armour basketball shoes a secure and locked-in fit. The foot is protected from rolling over with an internal midfoot shank. 
An upper made of leather and textile is perforated for improved breathability and support. Moreover, durable and stretchable TPU overlays at the forefoot help the shoe maintain its shape. Court feel, and responsiveness is the biggest strengths of these basketball shoes. UA Jet 2019 basketball shoe is a good choice for fast-paced hoopers. 
James Harden's Signature Stepback inspires this lightweight pair of Adidas basketball shoes to level up your game. On and off the hardwood, the Adidas Harden Stepback offers dynamic comfort via the Bounce cushion. 
With Super Grip outsoles, you'll always have great traction while playing. Moreover, A textile upper and a lacing system with ergonomics are also provided in these Adidas basketball sneakers for enhanced comfort and support. 
The full-length bounce midsole in the Adidas Harden Stepback provides enhanced cushioning underfoot. You'll remain comfortable all game long with the lightweight, flexible midsole. 
A textile upper makes these Adidas basketball shoes lightweight and breathable. Additionally, an abrasion-resistant synthetic toe cap protects and enhances the forefoot. James Harden's logo is featured on the tongue so that you can achieve an MVP look. 
While the Adidas Harden Stepback is an affordable option, it offers excellent performance. Its Super grip rubber outsole is praised for its durability by players. Their feet stay fresh and healthy, both on and off the court, thanks to the flexible Bounce midsole. 
Kobe Bryant's Mambas offer an affordable way for basketball fans to own Kobe shoes. In some ways, it resembles Kyrie Irving's Flytraps and LeBron James' Soldiers. In 2019, Nike introduced the Mamba Focus, which is part of Bryant's budget-friendly line. 
With these Black Mamba shoes, you can imitate the legendary player's moves. The embossed upper of the Mamba Focus offers a high level of stability and control. Whether you're stepping back, creating separation, or elevating (one of Bryant's signature moves), the shoe's low-profile outsole will keep you close to the hardwood. 
Wearers of the Nike Mamba Focus can move quickly in any direction thanks to the Mamba-inspired traction pattern. Mamba Focus was designed to maximize energy return to you as you actively pursue your goals. A Phylon midsole and a Zoom Air unit on the forefoot make these Nike basketball shoes extremely comfortable. 
The cushioning setup resists hard landings and provides a quick response. With a lace-up closure, the Mamba Focus ensures a snug, locked-in fit. A Swoosh-shaped framework, external heel cage, and lightweight support ensure that you are securely contained.
The Nike Zoom Freak 1 features an extra-responsive Zoom Air unit to cushion your jumps and runs. Its forefoot is fully contained and kept stable with an internal containment system. 
A multidirectional traction pattern also makes these Nike basketball shoes highly effective for quick starts and stops. In order to provide more cushioning during hard landings, the Zoom Airbags are stacked under the heel. 
Also, this setup allows you to bounce back down the court with explosive responsiveness. Featuring solid and translucent rubber, these Nike basketball shoes offer much better multidirectional traction on hardwoods. 
A geometrical traction pattern has been incorporated into the solid rubber portion, while a rose pattern honors Giannis' late father for increased stability. NZF1 shoes feature a lace-up closure system that locks your foot in place every time you lace them up. 
Also, paddled collars help you feel more secure in the heel area. They feature an upper made of lightweight textile that provides excellent breathability and support. 
Featuring a long history of sports connections, this Adidas shoe offers a reliable grip on dusty and clean floors. Further, the cushion of this shoe reduces the impact of forces during dunking and running on the body's joints, particularly the ankles. 
This shoe is incredibly comfortable because of its 100% synthetic leather and mesh panels throughout the midfoot and ankle area to remove pinching and ensure freedom of movement. The midfoot area of this pair fit true to size, and the tongue was nicely wrapped around your foot to ensure a snug fit. 
While it is a little disappointing that there are no back straps since they are stitched onto the shoes, there is no need to worry about injuries since the internal heel cups protect your feet. Additionally, the shoes have excellent ventilation so that you won't get blisters from them.
Adidas Pro Spark proves an outstanding player on the court, contrary to its silent debut earlier this year. Every athlete needs a shoe with a textile upper and mesh construction that maximizes comfort. 
Featuring herringbone patterns in its outsole, this shoe rarely lets you down when it comes to traction. It delivers a comfortable and responsive ride thanks to a Cloudfoam midsole and a highly eco-friendly Ortholite insole. 
Soft, flexible, herringbone pattern rubber outsole with rounded edges to maximize traction is the hallmark of this shoe. A lace-up system allows Fit adjustments, particularly around the collar of this shoe. 
It has an anatomical fit. In addition to its synthetic overlays and side computer stitching, the upper of this high-top basketball shoe is made of leather material. Essentially, the shoe is quite simple in its design, and wearing it with a casual outfit or activewear is no problem.
Louis Williams is a two-time NBA Sixth Man of the Year and has teamed up with Peak Streetball Master to launch a new signature shoe. An EVA midsole makes it responsive. It is good for outdoor use because of the herringbone pattern. 
Despite its durability and flexibility, the woven textile upper offers a comfortable fit. Shock-absorbent EVA midsole with ESS makes the Peak Streetball Master highly responsive. Energy Storage System, or ESS, works similarly to Nike's Zoom technology. 
This material absorbs shock and delivers an energetic rebound. A translucent rubber outsole is considered inappropriate for outdoor use. It's time to dispel this myth with peak streetball master shoe. 
Solid or translucent rubber is used as the outsole in different colorways. Since the textile upper stretches with time, wide-footed individuals won't have a problem fitting into this sneaker. 
Material of this nature is flexible, durable, and breathable. Moreover, Fuse overlays are an extra measure of protection for areas with high wear. Lastly, padded inner walls and ankles make this shoe more comfortable to wear.
This mid-top basketball shoe from the three stripes lets you cut through the traffic and own the game. It provides superior cushioning with Cloudfoam to help you break through the competition. 
Durable Adiwear outsoles provide dual-zone traction that will allow you to create separation on the hardwood. While the game continues into overtime, the mesh and leather upper provides durability and support. 
Adidas OTG shoes have a lace-up closure that ensures a durable and snug fit. With a blend of mesh and leather, this mid-top basketball pair from Adidas ensure ultimate comfort. 
Moreover, synthetic leather is applied to high-wear zones to increase durability. With Adidas Own The Game, you can enjoy a stylish and sleek look thanks to its synthetic leather zones. 
The mid-top silhouette is finished off with a debossed 3-Stripes and toe cap for a stylish look. Lastly, Adidas Own The Game is a great basketball shoe for ballers looking for a comfortable and affordable shoe.
Women and men can both buy the Adidas Entrap Mid Shoe. This model offers better support and protection to your ankles than low-top ones do. There is a lacing system that provides a customized fit. 
The mesh and leather materials used for the upper of the shoe ensure the foot's breathability. A cushioned Ortholite footbed provides impact protection and comfort. The tongue and ankle collar are padded for additional support. 
It has a mid-top silhouette, modernizing the retro look of this basketball shoe. Designed in a classic basketball style, the Adidas Entrap Mid offers a classic look that will turn heads. 
Ankle-high mid-top shoes can be worn for casual as well as sporty looks with a retro vibe. This affordable sneaker can be a trendy addition to a rotation of footwear that provides adequate comfort.
Best Basketball Shoes for Wide Feet Effective Buying Guide
It's possible to be born with wide feet or have wide feet as you get older. So, buying the right pair of shoes can sometimes be a tough decision. If you have wide feet, don't worry, this buying guide will show you what to look for while buying the right basketball shoes.
Things to Consider Before Buying
Take into account the following factors before purchasing the shoe.
Foot Measurements
Most people buy a shoe without first measuring the size and shape of their feet. Badly fitting shoes can do more harm than good and can be a waste of money. The perfect fit can only be achieved if your feet are precisely the right size and width. Thus, it is important to measure your foot before purchasing shoes for great performance.
Budget
Additionally, you must evaluate your budget when buying basketball shoes. One of the most common misconceptions is that expensive shoes are always better for a player. 
Fortunately, there are many inexpensive options available. In addition, we recommend that you pick a shoe based on its performance, not its price. You should also look for shoes that are worth your money. 
It is also important to remember that shoes made of leather are often more expensive than shoes made of synthetic materials. That is why budget must be considered when buying high-performance shoes.
Type of Player
Let's begin by discussing the different types of players. Shoe quality varies widely from shoe to shoe. Several factors are taken into consideration when designing them. 
Your first consideration should be the type of player you are on the courts. Ask yourself about what kind of player are you? Fast, Power, or all-rounder player. So, to choose the right basketball shoes, it is crucial first to determine your needs.
Fast Player
Players who play fast should wear lightweight shoes. Besides being moderately supportive, flexible, and cushioned, they also help you remain light while playing. Players who play fast tend to prefer lower-cut shoes.
Power Player
Power players need to find shoes with the maximum amount of cushioning and stability. When you bounce a ball back or bounce to shoot, your feet are protected at all times. 
This type of shoes may need to be heavier, but they should also incorporate features that will allow you to move around more easily on the court.
All Round Players
A shoe with a moderate cushion and support is ideal for an all-around player. There are more shoe options among all-arounder players as they will likely select the more traditional styles. All styles can be classified into these categories.
Traction and Stability
A player playing basketball wants to avoid sliding when they are on the court because of the fast moves when they attempt to pass their opponents. 
Therefore, it is important to choose basketball shoes with excellent traction to prevent slipping or sliding. There are various techniques created by different basketball shoe manufacturers that enhance grip. 
If the grip is firm, the player is more likely to perform fast moves, thus making it safer and quicker to play.
Shape
A shoe's shape may indicate its suitability for wide feet. If a shoe has a narrow front isn't likely to fit your feet well. Ensure that the shoes will provide the best fit by checking the size or dimensions.
Material
A lot of pressure can be exerted on the feet while playing basketball. Therefore, it is important to select shoes that will protect your feet against shock. If your feet are wide, look for shoes made of soft materials with stable and wide bases that will make your feet more comfortable. In addition, when your feet are well secured in the shoe, you will also reduce the risk of foot trauma or shock.
Stretchy Upper Materials
Different colorways feature a variety of other materials. Hence, if you want to wear shoes that are just slightly narrow, you should go with stretchy material, e.g., a woven or knit, rather than synthetic leather or strong mesh.
Impact-Resistant Feature
It's important to consider Impact-Resistant Feature for those with wide feet. Moreover, it should have an impact-absorbing layer to convert impact into energy. People who are searching for a much more durable shoe should consider this type of construction.
Inner Padding
The inner padding should also be substantial enough to provide comfort to your feet. Thus, you won't experience blisters and foot strain while playing for hours. Otherwise, wide feet might cause you problems later on.
Ankle Support
This is also an important consideration. Ankle injuries are frequent in basketball because of the nature of the sport. Therefore, you need to have a padded collar to support your ankles when you make sharp and sudden movements.
Ventilation
Having information about the upper material of the shoe is important to the ventilation. The fabric might not be breathable if it is made of a material like leather. However, Mesh uppers provide more ventilation than other materials to be better in terms of ventilation.
Comfort Level
Having a wide foot and playing basketball may require you to wear footwear that fits well. Playing can include jumping, running, and even bending. It is essential to wear wide enough shoes to allow you to play comfortably and without injury.
It can provide a smoother playing experience, as well as protection for your feet. Be sure to choose soft and comfortable soles. This kind of Sole material will cushion your feet from shocks and provide a bouncy feel as well.
Construction and Durability
Shoe structures have both strengths and weaknesses. Wearing parts are more likely to break first. These problems can occur in the insole, outsole, uppers, and even the lacing. Choose a shoe made from durable materials such as leather and mesh uppers that will last for many seasons.
Frequently Asked Questions (FAQ's)
What basketball shoes are good for wide feet?
The bottoms of the shoes should be wide to accommodate wide feet. This space will allow you to feel comfortable. So, the list of top 10 basketball shoes for wide feet are following:
Li-Ning Wade All City 8
Adidas Own the Game
Under Armour Jet 2019
Adidas Harden Stepback
Nike Mamba Focus
Adidas D Rose 773
Nike Zoom Freak 1
Adidas Pro Spark 2018
Peak Streetball Master
Adidas Entrap Mid
What are shoe brands best for wide feet?
The wide-feet shoe market is well-represented by a variety of brands. Most famous among the brands is Adidas, which offers comfortable and durable shoes.
Is LeBron 17 good for wide feet?
Some users have criticized Nike's LeBron for being too narrow. If you have wide feet, you need to order a size larger.
Is Kyrie 5 good for wide feet?
If you have narrow feet, opt for the Nike Kyrie 5. Your wide feet will not fit in these shoes.
Does Nike make shoes for wide feet?
Some of Nike's shoes are available in wide sizes to accommodate customers with wide feet.
What NBA players are with Puma?
Deandre Ayton, Marvin Bagley III, Michael Porter Jr., Kevin Knox, and Zhaire Smith are some of the NBA players who have signed on with Puma to bring their unique creativity and personalities to the brand.
The market has a hundred kinds of shoes that can be chosen according to one's preferences. Choosing shoes to fit wide feet can seem like a challenging task. The items listed above are worth purchasing. 
Like Nike, Adidas, Under Armor, and PEAK, the top brands in basketball can be found in many styles. Please consider these recommendations for your ease.
One of the best-selling shoes in the market is the Peak Streetball Master. Furthermore, Adidas Harden Stepback is a more affordable choice. Lastly, A Nike fan with wide feet might find Nike Mamba Focus appealing.