Stephen Curry's shooting form is one of the most effective in the NBA. It is a quick release with a high arc and good rotation. Even though Curry's shooting form is unorthodox, it works for him because he has mastered it. He put in countless hours of practice to develop muscle memory and perfect his technique. If you want to shoot like Curry, you'll need to put in the work too!
If you're looking to improve your shooting form, there's no better place to start than with the reigning MVP and one of the best shooters in NBA history, Stephen Curry. In this blog post, we'll break down Curry's shooting form step-by-step so that you can start incorporating his techniques into your own game.
Stephen Curry Shooting Form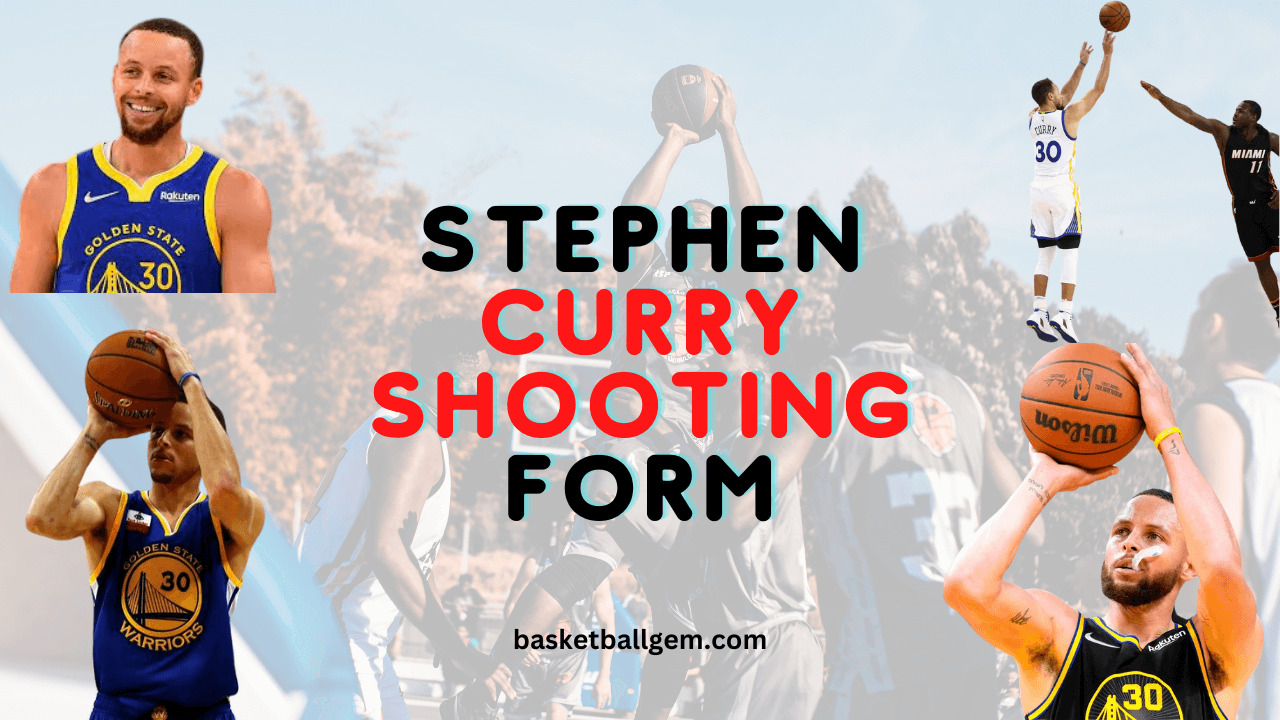 Stephen Curry is one of the best shooters in basketball history. His shooting form is nearly perfect, and it's a big part of why he's so successful. Let's take a closer look at his shooting form and how it contributes to his success.
Curry starts his shot with his feet shoulder-width apart, knees bent, and weight slightly forward. He brings the ball up to his shooting shoulder and then pauses for a split second to gather himself. From there, he extends his arm and releases the ball at the top of his jump.
One of the things that makes Curry's shooting form so effective is his ability to generate power from his legs. He uses his lower body to explosively drive up into his jump, which gives him extra lift and helps him get the ball on an upward trajectory.
Another thing that sets Curry's form apart is his quick release. He doesn't hold the ball too long at the top of his jump, which allows him to get off shots quickly and keeps defenders from closing out on him.
Finally, Curry's form is extremely consistent. He doesn't seem to vary it much from shot to shot, which allows him to be one of the most accurate shooters in the game.
Overall, Stephen Curry has nearly perfect shooting form. His ability to generate power from his legs, quick release and consistency are all big reasons why he's such a successful shooter.
The Science Behind Stephen Curry's Shooting Form
When it comes to shooting, there are a lot of variables that go into making a successful shot. One of the most important factors is technique. A proper shooting technique can be the difference between an air ball and hitting nothing but the net.
There are many different shooting techniques out there, but one of the most effective is Stephen Curry's. In this article, we will break down the science behind Curry's shooting form and how you can use it to improve your own game.
The first thing you'll notice about Curry's form is that he doesn't use his arms to generate power. Instead, he relies on his legs and core muscles to give him the explosiveness he needs to get his shot off quickly. This not only makes him harder to defend, but it also allows him to get his shot off in tighter spaces.
Also, take a look at balance. When shooting, you want your weight evenly distributed between your feet. This allows you to take advantage of your body's natural center of gravity. Curry achieves this by keeping his feet shoulder-width apart and slightly bent at the knees.
Curry also has a very quick release. This not only makes it difficult for defenders to block his shot, but it also means that he can get his shots off quicker than most players can react. When you combine this with his accuracy, it's no wonder why he is one of the best shooters in the NBA.
Next, let's talk about hand placement. When shooting, you want the ball to sit in your fingers, not your palm. This gives you more control over the ball and helps you keep it stable as you release it. Curry places his shooting hand under the ball, with his index finger and thumb forming a V-shape around it.
If you want to improve your own shooting, studying and mimicry, Stephen Curry's form is a great place to start. By following his lead, you can develop a proper technique that will help you make more shots and become a more effective player on the court.
How Stephen Curry's shooting form has evolved
Few players have changed the game of basketball more than Stephen Curry. When he entered the league, he was known as a deadly shooter with unlimited range. Over the years, his shooting form has evolved to be even more effective, and he is now widely regarded as the best shooter in NBA history.
Here is a breakdown of how Curry's shooting form has evolved over the years:
Curry's shooting form has always been characterized by a high release point and a quick release. However, early in his career, his elbow would often drop below his shoulder when shooting, which would affect his accuracy. To remedy this, Curry has worked on keeping his elbow up when shooting, which has helped him become one of the most accurate shooters in the league.
Curry's jump shot used to be strictly a jump shot, but he has since added a dribble to his repertoire. This makes it even harder for defenders to close out on him, as they have to respect his ability to drive to the basket. As a result, Curry now gets more open looks than ever before.
When Curry first came into the league, he relied heavily on his jump shot. However, he has since added a number of other shots to his arsenals, such as pull-ups and floaters. This makes him even tougher to guard, as he can score from anywhere on the court.
Curry is always looking for ways to improve his game, and it shows in his shooting form. As he continues to evolve as a player, there is no telling how good he will become.
How can you improve your shooting form?
There are a few key things you can do to improve your shooting form.
First, make sure you have a good grip on the ball. You should be able to hold the ball with your fingers, not your palm.
Second, keep your elbow in, and don't let it fly out to the side when you shoot.
Third, follow through with your shot by letting your wrist snap as you release the ball.
Finally, make sure you're squared up to the basket when you shoot. If you're not, you're likely to miss it.
Common Shooting Form Mistakes
When shooting a basketball, form is everything. A shooter with poor form is unlikely to make many baskets, no matter how skilled they are. There are several key elements to good shooting form, and many common mistakes that players make.
One of the most important aspects of shooting form is the position of the feet. Both feet should be pointing toward the basket, with the dominant foot slightly ahead of the other. Many players make the mistake of having their feet facing too far to the side, which makes it difficult to control the shot.
Another crucial element is the elbow. The elbow should be bent at a 90-degree angle and kept in line with the basket throughout the shot. This provides stability and ensures accuracy. Too often, players let their elbow flare out to the side, which causes the shot to veer off course.
Finally, players need to have a firm grip on the ball and follow through with their shot once it leaves their hands. The pinky and index fingers on each hand should be wrapped around the ball, while the other fingers provide support from underneath. After releasing the ball, players should snap their wrists so that their fingers point downwards toward the ground. This gives extra power to the shot and prevents it from spinning off course.
There are many other small details that go into perfecting one's shooting form, but if players can avoid these common mistakes, they will be well on their way to becoming great shooters.
Tips For Improving Your Shooting Form
Good shooting form is the key to becoming a great shooter. Here are a few tips to help you improve your form:
Keep your elbow in. This will help you maintain control of the ball and ensure that your shots are more accurate.
Follow through with your shot. This will help you generate more power and accuracy.
Keep your eyes on the target. This will help you better assess your aim and make adjustments as needed.
Practice, practice, practice! The more you shoot, the better your form will become.
The Benefits of A Good Shooting Form
When it comes to shooting, having good form is crucial to becoming a great shooter. A lot of people think that all you need to focus on is getting the ball in the basket, but having good form will actually make it easier for you to get the ball in the basket. Here are some benefits of having a good shooting form:
You will be able to shoot with more accuracy.
You will have better control over your shots.
Your shots will have more power behind them.
You will be able to shoot faster.
The Importance Of Practice In Shooting Form Development
It is often said that practice makes perfect. This is especially true when it comes to shooting form in basketball. A player can have all the talent in the world, but if their shooting form is not sound, they will not be able to consistently make shots.
A sound shooting form is the result of proper technique and repetition. Once a player has learned the proper technique, they must then put in the time to practice and master it. Only through consistent practice will a player be able to develop a shooting form that is second nature and allows them to shoot with confidence.
There are many factors that go into a sound shooting form, such as hand placement, release point, follow-through, and more. A player must be able to control all of these factors in order to shoot the ball correctly. If even one of these factors is off, it can result in an inconsistent shot.
The importance of having a sound shooting form cannot be overstated. It is the foundation on which all great shooters are built. Without it, a player will never reach their full potential as a shooter.
Conclusion
After analyzing Stephen Curry's shooting form, it is evident that there are a few key areas in which he does exceptionally well. First, his stance is always balanced and low to the ground, which allows him to make quick movements and get into position to shoot. Second, his elbow is always tucked in close to his body, which provides consistency and accuracy. Finally, he has a quick release that gets the ball up on the rim before the defense can react.