The meaning of turnover in basketball is a wasted opportunity of ball possession before a shot is attempted. In most cases, it happens just because of the failure of offensive team strategies or because of effective defensive tactics and sometimes due to fouls.
If this issue isn't identified and fixed on time, it could be an ongoing problem that leads to bad practice. The result of this basketball turnover comes in reducing scoring points and also decreasing the winning chances. Till now, you will be clear about what does a turnover means in basketball? Let's dig further in-depth for a better understanding.
What is a Turnover in basketball?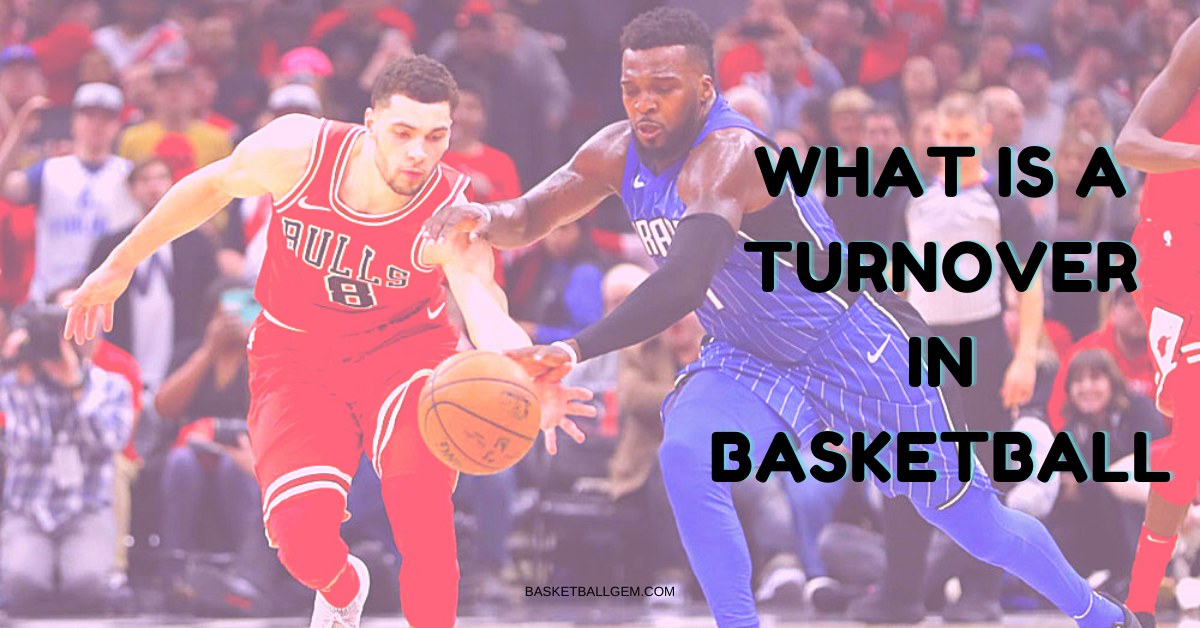 What are the causes of Turnover in Basketball?
Multiple reasons result in basketball turnover, including:
The ball being stolen: Defensive players try to steal the ball with positive, aggressive action.
Stepping out of bounds: If the offensive player steps out of bounds and obstructs the ball, the defensive team gets possession.
Illegal Screen: When a screener tries to take an unlawful advantage or contact, the result is an offensive foul.
Double Dribble: When a player uses two hands to dribble or stop with the ball, start dribbling again.
Having a pass Intercepted: When the defensive team catches the pass of the offensive team.
Throwing the ball out of bounds: Intentionally throwing the ball outside the bound to avoid ball catching.
Three-Seconds Violation: It's a rule that says not to stay inside the paint for more than 3 seconds in a row.
Five-Seconds Violation: When a player doesn't pass, dribble, or shoot the basketball for more than 5 seconds due to closely guarded by opponents, turnover occurs.
To transform your life, confidence, and work, you may read this book (The Five Seconds Rules) written by Mel Robbins.
Ten-Seconds Violation: If a player fails to clear the half-court in ten seconds after their team inbound the basketball.
Twenty-Four Seconds Violation: If a team fails to hit the ball to the rim within 24 seconds of the shot clock.
Traveling: When a player takes three steps without dribbling the ball.
Shot Clock Violation: When a team failed to attempt a field goal within the given time.
Carrying/Palming: The player allows his hand to go under the basketball during dribbling and stop it for a while.
Goaltending: Stopping the basketball illegally from going into the goal.
Held ball: An unclear situation in which two players have their hands on the basketball firmly.
Backcourt Violation: When a team possessing the basketball fails to bring the ball into the frontcourt from the backcourt within 8 seconds, it results in a turnover.
Fouls: Due to offensive, charging and technical, personal, shooting, and team fouls.
All the causes mentioned above can cause turnover in basketball.
What are the types of turnover in basketball?
As we see the detailed definition and the causes of turnover in basketball let's discuss the main types of turnover
Forced Turnover

Unforced Turnover
Forced Turnover: A type of turnover in which the turnover is created or caused by the opponents is known as forced turnover in basketball. For Example: Stealing the ball, having a pass intercepted, etc., are the types of forced turnover.
These turnover types can occur due to the lack of offensive player concentration and sometimes due to poor strategies, and rarely due to strong defense. You can't avoid this turnover up to 100%, but you can still limit this turnover by enhancing your skills.
Unforced Turnover: A type of turnover in which turnover occurs due to the player's own silly mistakes is unforced turnover. For Example: Stepping out of bounds, double dribble, three-second violation, five seconds Violation, etc., are types of unforced turnover.
These types of turnover are mostly individual and vary from player to player. However, one can avoid such type of turnovers by practicing positively; otherwise, it can lead a team towards losing the game.
Related: Wilson Evolution Basketball Detailed Review
How to avoid turnover in basketball?
You can follow the guidelines mentioned below to avoid turnover in basketball:
As we know, turnover in basketball doesn't occur accidentally but due to the offensive player's failure.

However, it occurs in almost every game which means that we can't a hundred percent avoid it, but still, we can reduce it up to maximum level.

Firstly, we need to identify the main reason behind the turnovers.

It is due to lack of concentration, practice, improper gameplay, or not reviewing past tapes properly.

Secondly, we need to make sure the players' relationship with their coaches whether they listen to the coach or not.

Thirdly, we need to focus on the opponent's power moves and weaknesses by reviewing their history to plan better.

Fourthly, we need to ensure that whether the players are confident or nervous about their matches. If so, then guide them on how to control nerves during such fast-paced matches.

Moreover, the best way to minimize the turnover is by regularly practicing in intense situations games and learning each move correctly.

Lastly, better communication between team players is a crucial factor for winning the game.
Therefore, guide the players in a way that they can foresee the next move of their opponent and perform accurately.
What is the turnover percentage in basketball?
It is a metric that is used to calculate the estimated turnovers per hundred plays. This factor also helps in monitoring the player's value and contribution to his team.
Related: List of Top 10 In-ground Basketball Hoop
How to calculate turnover percentage in basketball?
You can calculate the turnover percentage from the formula given below:
Turnover Percentage = 100 × TOV / (FGA + 0.44 × FTA + TOV)
Where:
TOV = Turnover
FGA = Field Goal Attempts (Including 2-point and 3-point attempts)
FTA = Free Throw Attempts
What is a good turnover percentage in basketball?
As we know, more turnover means a team is going to lose more points. Therefore, the lesser the turnover means you will lose fewer points that can increase your winning chances.
In the below table, we have shown the equivalent number of reduced points regarding the number of turnovers committed to providing you a rough idea.
| | |
| --- | --- |
| Turnovers | Reduced Points |
| 5-9 | 5-8 |
| 10-14 | 8-16 |
| 15-19 | 12-22 |
| 20-24 | 16-26 |
| 25-30+ |  20-28+ |
From the above table, you can get a clear idea about the negative impact of turnover over the reduced points that provide a chance to your opponents to win the game.
How to calculate, assist to turnover ratio in basketball?
It is a metric used to find the ball-handling skills or control of an individual player's basketball. When a player gives a pass to another player who scores a goal, the assist will be recorded. You can use the formula below to evaluate assist to the turnover ratio:
Assist to Turnover Ratio = Total A ÷ Total TOV
Where:
A = Number of Assists
TOV = Turnover
What is a good assist to turnover ratio in basketball?
The 2:1 is considered as an excellent assist to turnover ratio in basketball. It's mean that if your team records five turnovers, then you should have at least ten assists.
Related: Actual Game Time of NBA, NCCA, WNBA
Why do we record turnovers?
The first turnover was recorded by American Basketball Association (ABA) in 1967. Furthermore, in 1977 National Basketball Association (NBA) recorded its first turnover.
Nowadays, it's common to record turnovers in almost every basketball league as a benchmark. Moreover, Turnover helps us measure any team's performance, whether they are excellent or poor, that's why turnovers are recorded.
Furthermore, Turnover statistics can predict the wins and losses chances of any team. Lastly, a team with fewer turnovers has brighter chances to win a game and vice versa.
Frequently Asked Questions (FAQ's)
1. What are the basic turnover in basketball?
There are many situations when the basketball turnover can occur, but the fundamental turnover in basketball is following:
Rebounds

Stepping out of bounds

Stealing

Fouls

Violations
2. Who gets the turnover in basketball?
In a basketball game, a point guard is a player who gets the most turnover in basketball because he possesses the ball very often as compared to other team players.
3. What is the difference between a steal and a turnover in basketball?
During the gameplay, when the defensive player gets the ball's possession legally from the offensive player, then steal occurs. An offensive player loses the ball's possession due to his own mistakes, violations, or defensive player's compelling gameplay.
4. What is team turnover in basketball?
When an offensive team loses the basketball possession due to their plan and strategies' failure before attempting the shot, team turnover occurs.
5. Is stealing a Turnover in basketball?
No! There is a little difference; stealing occurs when a defensive player legally possesses the ball from an offensive player. Moreover, turnover occurs if a player loses the ball's possession because of his fault.
6. Are turnovers good in basketball?
No! Because more turnovers mean fewer chances of winning. It is harmful to a team because you will lose the ball's possession, which means opponents will get a chance to beat you.
7. Does a block count as a turnover?
No! Because block and turnover are two different terms. The block in basketball is a field goal attempt, while turnover is losing the ball's possession. Therefore block can't be counted as turnover.
Turnover is more common in Lower ranks players that are still in the learning phase. Moreover, you can't avoid turnover 100% because it happens in almost every game. But by practicing regularly, you can polish your skills and reduce turnover. You have to follow your coach's guidelines about turnover so that you can foresee your opponent's move and increase your chances to win the game.