It's more fun to play in our backyard or driveway with the best portable basketball hoop. But low-quality hoops may fall over quickly due to a lack of stable structure and base. Moreover, some portable hoops assembling time sucks, and low-quality backboard get scratched easily.
Keeping all these aspects in mind and researching thoroughly, we choose the best options for you available in the market. You will find the best portable hoops collection here, whether you need it for family fun or any serious competition.
Editor's Choice
Little Tikes
9.8/10
Silverback NXT 50″
9.6/10
Best Fast Assembling Hoop
Spalding Glass Hoop
9.3/10
Best Portable Basketball Hoop Reviews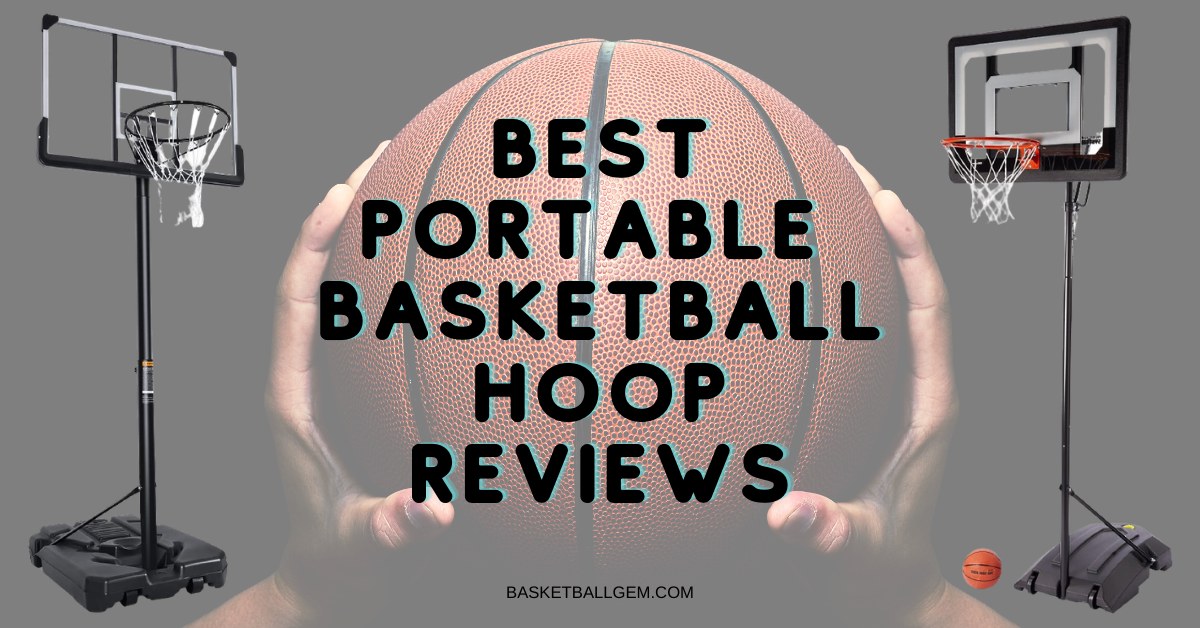 As we know, everyone must exercise regularly; that's why some people prefer walking & running while others prefer sports. Similarly, basketball is also a trendy sport now a day, and many people consider it like a religion.
Moreover, people used to play basketball with their families and friends, especially on weekends. Furthermore, good basketball players take part in different tournaments while professional play NBA games.
Most importantly, millions of people enjoy basketball matches on television. It's a fact that basketball lovers started to play basketball in their backyard and driveways because of its craze increasing day by day.
The Portable basketball hoops play an important role in increasing the fame of this game because you can play with them anywhere anytime.
List of Top 10 Best Portable Basketball Hoop
1. Little Tikes – Best Hoop for Toddlers
This US-made pro basketball hoop is ideal for keeping your toddlers and preschoolers active all day. Moreover, the wide-rim and oversized toddler-friendly hoop make it easy for your kid to shoot the basketball into the hoop.
You can smoothly adjust this hoop from 30 to 48 inches to six settings so that your baby can play independently for many years. The only problem is that sometimes it may go downhill due to putting pressure on the hoop.
Besides, you can fill the base of this hoop with 8 kg of sand or 1.5 gallons of water for extra stability. Lastly, it comes with three kid-sized basketballs so that your child can play instantly as soon as the assembly is complete.
Features:
Durable: It outlasts the toughest
Assembly Required: Yes
Strong: Seamless double-wall construction

Kid-Friendly
2. Lifetime 1269 Pro – Best Kids Friendly Hoop
This portable hoop contains a 44″ backboard that is designed with shatterproof polycarbonate for perfect play. Especially the telescoping height adjustment mechanism makes it more effortless even for kids to adjust the height from 7.5 to 10 feet.
Moreover, you can assemble this hoop within 2 hours and start playing with your family and friends. Furthermore, you need to fill the base with 27 g of water to improve stability.
Don't forget to choose sand instead of water in winter because if you put water in the base, it will be freeze and may crack the base. The net weight is only 50 grams that are perfect for playing in any weather condition.
Lastly, this hoop includes three-piece poles that are all-weather resistant that work great for many years.
Features:
Frame Material: Alloy Steel
Assembly Required: No

Good Maneuverability

Best Sturdiness

Assembly is straightforward & requires 2 adults

Straight forward assembly

High quality

UV protected inks for better protection against elements and superior colors.
3. Lifetime 90023 – Best Hoop for Newbies
If you are a seasonal or beginner basketball player, then you should try this portable hoop. Moreover, it's easy to adjust with broomstick from 8 to 10 feet so that everyone can play and dunk quickly.
Furthermore, the 44″ shatterproof fusion backboard is made up of polycarbonate that provides a great rebounding. Some users complain about assembly process time, so it may take more time if you aren't a talented handyman.
Significantly, the solid steel classic rim, three-piece steel pole, and net are all-weather resistant with a powder-coated so that you can play without any hustle. Lastly, the superior colors & protection against the elements it contains screen printed with UV protected inks.
Tip: Place the broom handle under the rim to adjust the height up while place the broom handle behind the backboard and push upward into the release box to lower the backboard.
Features:
Material: Solid steel

Great value for money

Awesome Sturdiness

Good Maneuverability
4. Lifetime 1221 Pro – Best Hoop for all Age Group
This pro hoop is suitable for all age groups of players to continue their recreational activities at home. This Portable hoop can be rolled on wheels so that you can hone your jump shots or dunking drills anywhere in your spare time.
Especially the telescoping adjusting mechanism helps to adjust the rim height from 7.5 to 10 feet. Furthermore, the pro hoop base provides cement-free standing so you can use 27 g sand or water to improve stability.
Moreover, the 44″ impact backboard is made up of unbreakable high-density polyethylene. Lastly, this hoop is manufactured to withstand all the harshest elements in any weather condition.
Features:
Assembly Required: Yes
Warranty: 5 Years

Telescoping Adjustment Pole

Impact Backboard

Excellent quality instructions

Great Sturdiness

Good Maneuverability

Easy to assemble
5. Lifetime 71524 – Best Hoop for Professionals
If you want a professional Portable Basketball hoop backed by warranty, grab this because of a 5-year warranty. Moreover, a comfortable power lift mechanism for height adjustment helps adjust the height from 7.5 to 10 feet.
Especially slam-it pro rim wraparound, the arena-style net braces to support the solid steel ring improve the dunking experience. Furthermore, the net and pole are designed to withstand any weather conditions that increase this hoop's lifespan.
Assembly of this hoop is a little more challenging even for a handyman too. Above all, the 35 g heavy-duty base of this hoop can be filled with water or sand to increase stability and portability.
Lastly, the 54″ shatterproof backboard surface is made up of polycarbonate material to improve the hard shorts experience.
Features:
Warranty: 5 years

Power lift adjustment

Shattered proof backboard

Powder-coated steel

Great Stability

Awesome Sturdiness
6. MaxKare Portable Hoop – Best Selling Hoop
If you are wondering about the best seller in Portable Basketball hoops, MaxKare has the #1 seller batch on Amazon. This brand contains a 44″ backboard made up of polycarbonate & massive duty steel pole that improves sturdiness and durability in intense games & worst weather conditions.
Moreover, two telescopic knobs and a white line make the hoop height adjustment easy from 7.6 to 10 feet. Furthermore, the 21 g base can be filled with water or sand to increase stability and safety.
The only trouble is that sometimes when the ball passes through the net may hit the base cause's ball to bounce erratically, but nothing to be too concerned over. Especially this brand gives you 24 months manufacturer's & 90 days full refund warranty in case of any defect or shipping damage. Lastly, it can be used both indoor/outdoor and easy to transport with wheels.
Features:
Refund: 90 days full refund

High Sturdy frame

Telescopic adjustment knobs

Durable

Good for both indoor outdoor

Easy assembly
7. Lifetime 90040 – Best Budget Hoop for Beginners
If you are looking for residential portable basketball systems for beginners, this could be a perfect choice. Moreover, the high-density polyethylene material is used to construct the backboard to increase durability and strength to avoid cracking and chipping.
Furthermore, the three-piece steel round pole, classic rim, and nylon net are excellent weather resistant. Mostly you can use this hoop for both indoor and outdoor use because it's UV protected.
The only downside is little holes for putting sand inside the base. Above all, it contains a telescoping mechanism for height adjustment and a 27 g base to be filled with water or sand to increase stability.
Features:
UV protected inks

5-Year Warranty

Telescopic pole height adjustment

Easy to setup

Good value for money

High sturdiness

Not hard to Setup
8. Silverback NXT 50″ – Best Fast Assembling Hoop
If you are tired of assembling hoops that take more than 3 to 4 hours, try this brand because it has ultra faster assembly time in just 90 minutes. Mainly this hoop uses Stabili-Frame Technology that helps to improve stability, safety, and playability.
Moreover, the base & weighted wheels provide an optimal gravity center to ensure that your goal rim will stay upright. Of course, the slope base design (ergo-move) is used for weight distribution and can be easily transported by two peoples.
Besides all the good things, one little negative is that you need a large ratchet set for proper assembly. Furthermore, the infinity-edge 50″ backboard not only provides a clean and modern hoop look but also gives unmatched strength. Lastly, you and your kids can adjust the height easily from 7.5 to 10 feet.
Features:
Ultra-fast assembly

Steel frame unmatched stability

Beautiful look

Pretty easy height adjustment
9. Spalding E68562 NBA – Best NBA Players Hoop
If you are hunting for the best basketball hoops for the driveway, this hoop could be a great choice. The 60″ acrylic backboard with arena padding style makes an ideal choice for professional, aspiring NBA players.
Moreover, the screw jack lift detachable handle makes rim height adjustment easier from 7.5 feet to 10 feet. Above all, this hoop's two-wheel design makes transportation easier and outstanding for bringing the arena to your driveways.
The only downside is you must need to fill the base of this with sand or water because it has a 60″ backboard, which is the most massive part of this system. Lastly, the slam arena breakaway rim gives it a professional look and helps to grip the net.
Features:
Greater Sturdiness

Good stability

Value for money

High Quality

Easy to assemble
10. Spalding Glass Hoop – Best Hoop for Dunking
If you are looking for a pro basketball hoop, try this first one & only a 60″ tempered glass backboard hoop. Furthermore, it comes with an all-weather friendly net and pro rim to improve your dunking drill experience.
Moreover, this hoop's height can be easily adjusted with a screw jack list system from 7.5 to 10 feet. Especially the four-wheel power move base design gives more ease in transportation and driveways.
The only issue with this hoop is a little manufacturing flaw. The holes beneath the goal in the plastic cover aren't lined up. But this flaw doesn't affect the strength of the structure and your play.
Besides all this, you need to put 55 g of water or sand to make this hoop more stable and safe. Overall it's a great goal, and if you are assembling it alone, it could TAKE up to 5 hours, but a handyman can assemble it within 2 hours or less.
Features:
Pole Material: Steel

Easily movable with 4 wheels

Screw Jack height adjustment

High Sturdiness

Great Maneuverability

Easy assembly
Best Portable Basketball Hoop Exclusive Buying Guide
For some basketball players, it's inconvenient to go to the nearest basketball court. Sometimes it's time-consuming to construct their basketball courts or in-ground hoop.
So portable basketball hoops are the best solution to this problem. For beginners and even professionals bringing the basketball arena to their home isn't less than a blessing.
If you want to buy your portable basketball hoop, then follow this buying guide to get the best portable hoop that lasts for years to come.
Identify your Needs:
Firstly, you have to identify your needs that why you need a portable basketball hoop. Secondly, identify your expertise that either you want a toddler, beginner, or pro-level basketball hoop. Thirdly, you should keep your budget in mind. Lastly, decide the best Portable basketball hoop by following these criteria that fulfill your all needs and requirements.
Weather Conditions:
Don't forget to keep weather conditions in your mind because it's also one of the most important factors. If you want to buy a portable basketball hoop and play in windy or cold weather, we suggest you buy polycarbonate material large base hoop because they are durable in such conditions.
Moreover, you need to use sand instead of water in the hoop base because it can get frozen, and the base can get cracks that lead to instability, and the hoop may fall on you.
What to look for:
There are many things to look for while buying the best portable basketball hoop:
Base:
It is one of the essential parts of a basketball hoop because the hoop's portability and stability mainly depend upon the base. We usually need to fill the base container with sand or water to increase the hoop's stability.
The hoop base shouldn't be heavy so that you can easily transport and do the driveway as well. Base capacity varies for different levels like the beginner level hoop contains 27 gallons capacity While the little advanced level hoop includes up to 35 gallons.
Moreover, the most expensive hoop base has a 50+ g capacity. As the base capacity will increase, the hoop weight will also increase, disturbing the hoop's portability.
Secret Tip: If you want to prevent your base from cracking, leaking, and best stability, you should add some base gel into the water.
What is Base Gel?
It is a super absorbent polymer that can be used in the base of a portable basketball hoop as an alternative to water or sand to increase the base stability with little quantity. Moreover, the base gel has the capacity to absorb up to 400 times its weight in water in just 3 to 5 minutes. Therefore you don't need to carry 
Why use Base Gel?
Normally, a portable basketball hoop requires 30 to 50 gallons of water to maintain the stability of the hoop. Sometimes this water or sand filling is time-consuming and tough too. So you can get rid of this painful procedure by replacing much water with a little base gel.
How to use Base Gel?
Take 1 packet/bottle of base gel that will be enough to replace 40 gallons of water and 400 lbs of sand. 

Now add 2/3 of the base gel in the portable hoop base and fill the half base with water. 

After that, you can add the remaining base gel into the water. 

Then you can fill the water into the base up to the recommended fill level.

After 3 to 5 minutes, you can notice that the base gel will change its shape into a firm, stable gel.

Boom! Now you are ready to play with that portable hoop. 
Benefits of Base Gel
There are numerous benefits of using base gel:
Once you fill the base gel in the base of the hoop, it will last for almost 7 years.

It does not exceed the water volume available in the base

With a little quantity of base gel, you can get the exact weight you wanted from water or sand.

At below 0 C, the base gel will be freeze, and when the temperature is normal, it will get back in the gel state again.

The base gel is environmentally friendly so you can drain it whenever you want to empty the base.

Portable hoop users love the base gel because it provides a tremendous solution.
Base Portability:
Base wheels and casters play an important role in hoop portability. It should be reliable so that you can easily transport the portable basketball hoop.
Some people prefer to pick up the construed portable hoop instead of moving on wheels especially with a sand-filled base.
Additionally, if you left your portable basketball hoop outside, you can compromise on the base portability.
Base Sturdiness:
Firstly you should know who will play basketball either a beginner or a professional player then buy a sturdy base accordingly. Moreover, if you are buying a Portable hoop for aggressive players, choose the hoop with a heavy and large base to ensure safety.
Supporting Pole:
For the hoop's best stability, the supporting pole should be robust, durable, and stable. Portable basketball hoops nowadays use adjustable poles so that any age group player can play basketball easily.
So adjustable poles come in 2 or 3 pieces, so the lesser the pole pieces, the lesser it will be shaking. Different types of height adjustment systems are used. Moreover, some cheap hoops use a telescopic pole system and broomstick, etc. Furthermore, costly hoops use a screw jack system.
Height Adjustment System:
The height adjustment mechanism is also an important function in portable basketball hoops. Normally height adjustment system requires two peoples but if you want to do it alone, choose power lift technology. Moreover the height range of all hoops normally 7.5 to 10 feet so you can choose it accordingly.
Backboard:
You need to choose the best quality backboard that is durable and strong that can bear your dunking shots or daily layups. So consider the following factors:
Backboard Size:
If we talk about the backboard size in NBA & NCAA, we realized that they use a 72″ × 42″ backboard. But there is no portable basketball hoop backboard size available in the market.
But still, you want a professional size backboard; then; then we will recommend you to buy an in-ground basketball hoop. Moreover, if you want a portable hoop as a beginner for playing in the backyard, a 44″ backboard would be an ideal choice.
Furthermore, if you are a professional in basketball, then try portable 54″ or 60″ size backboard options for a professional feel.
Backboard Material:
Usually, backboards are made up of 3 types of materials:
Polyethylene:
It's a type of plastic that is generally used in designing the cheapest basketball hoops. If you are looking hoop for beginners or kids, then it's the best option because this material is durable and doesn't scratch.
The problem is that this material's rebound effect is a little bad, which means that when the ball hits the backboard, it will be slow down.
Acrylic:
It's the best type of plastic used to design the hoops of a moderate price range. Transparency of this material provides a professional look. The little crisis with this material is that it's very soft and gets scratched over time. This material's rebound effect is average, and this type of material is more susceptible to wind.
Tempered Glass:
This material is used for manufacturing professional basketball hoops like in NCAA, NBA, and all over the world. Moreover, it has a real rebound effect so you can enjoy the bank shots and layups, but it's hefty material.
Only a 60″ tempered glass portable basketball hoop available in the market is reviewed above in our top 10 list. Furthermore, you can use an in-ground tempered glass basketball hoop like full-fledged professional NBA & NCAA games.
The biggest pro of tempered glass material is that it doesn't scratch easily plus maintain its clean look for years.
Related: List of top 10 In-Ground Hoops
Net:
Believe me; it's really frustrating to run after a wayward basketball if you play on the net-less hoop. Therefore, to keep your motivation high, you should give equal importance to both rim and net. The portable basketball hoops mostly use nylon fiber net to tolerate severe weather conditions and high temperatures.
Moreover, nylon fiber doesn't entangle the basketball because of its silky texture. Furthermore, we don't recommend the metal chain net because it can damage your basketball's leather. Polyester material net is also a feasible option, but it's less durable. So for outdoor hoops, a nylon net would be the best choice.
Rim:
Most portable basketball hoops have 18 inches rim diameter, and the main difference between the rims is basically how they are attached to the backboard. Mainly there are 2 types of rims available in the market.
Standard Rim

Breakaway Rim
Standard Rim: These types of rims are connected with the lower backboard to increase stability. However, the large rebound is the drawback of such types of rims. Therefore we don't recommend ducking drills because they can cause serious injuries to your hands with bounce-out shots.
Breakaway Rim: The quality of these rims is that they come with compression springs that reduce the bounce-out shots. Everyone loves its soft touch phenomenon because you can do dunking drills safely.
Moreover, the breakaway rims have two variants exposed compression springs and covered compression springs. Exposed ones are affordable while covered variants are more expensive because they provide better rust protection.
Budget:
If we talk about the best Portable basketball hoop's price, it depends upon different factors. For Example Backboard, pole, material, and size.
Firstly you have to decide if you are a beginner then you should get an affordable hoop for recreational purposes.
Moreover, if you are a professional player, we would like to recommend a high-quality hoop to improve your performance and dunking drills.
Follow the Assembly Instructions:
You need to follow the instructions manual to complete the hoop construction safely. To avoid any mishaps, you can call your friends for a successful assembly.
Ensure Safe Playing Area:
After assembling the basketball hoop, you need to ensure a safe playing area where you can set up your hoop. Moreover, to ensure your hoop's stability, you should choose a flat and smooth surface rather than a high/low surface. Additionally, you can call a specialist to smooth the high/low surface. Furthermore, we recommend you to play in low wind and sunny areas so that kids enjoy playing basketball.
Perform a Play Test:
Your portable basketball hoop may look great on paper, but you need to perform a play-test in gameplay to check its actual performance. If your hoop doesn't perform well according to the advertisement, you can claim a service warranty or total refund.
Winterizing the Portable Basketball Hoop
When the temperature falls below the freezing point during winters, it is necessary to winterize your hoop before winters. You can follow this simple procedure:
Firstly, empty the hoop base if it is filled with water because the freezing water expands the base volume, leading to crack the base. But if you don't have sand and water is the only option then use anti-freeze in it. Furthermore, you replace water with sand to stabilize your base hoop.
Secondly, we recommend keeping your portable hoop inside the storeroom and not leaving it outside, especially in winters. Moreover, if you plan to keep your hoop outside, take some necessary measures to secure your hoop. For example, use bungee cords and trap cover by lowering the pole height so that you can secure your net, rim, and pole, etc. from rust and harsh weather.
Frequently Asked Questions (FAQ's)
1. What's the best portable basketball hoop to buy?
You can buy the following best portable basketball hoops:
Little Tikes

Lifetime 1269 Pro

Silverback NXT 50″

Lifetime 90023

Spalding E68562 NBA

Lifetime 1221 Pro

MaxKare Portable Hoop

Lifetime 71524

Spalding Glass Hoop

Lifetime 90040
2. Which basketball hoop is best in a driveway?
The following are the best basketball hoops for driveways.
Spalding Glass Hoop

Lifetime 1221 Pro

Step 2 Shootin Pro

Lifetime 1269 Pro

Silverback NXT 50″

Lifetime 90023

MaxKare Portable Hoop

Lifetime 71524

Spalding E68562 NBA

Lifetime 90040
3. Are portable basketball hoops safe?
Yes! If you will buy the best quality portable basketball hoop and assemble it correctly, they are safe. Moreover, if you will buy low-quality portable hoops, they may fall over easily with high-speed wind or regular dunking drills.
4. What is the best thing to put in a portable basketball hoop?
There are usually two options available whether to put sand or water in your basketball hoop base. Moreover, the best thing to put in the base is water because you can drain it quickly for transportation. Most importantly, I would like to give you tips that don't forget to put base gel in the base water to improve the stability and avoid any leakage and cracking.
5. How do you store a portable basketball hoop for winter?
We would recommend you fill the hoop base with sand, especially in winters, because the cold water can crack the base. You should also place your hoop in covered areas like storage space, carport, and barn, etc. Moreover, if you don't have such kinds of space, then cover your portable basketball hoop with the bungee cords trap.
6. Is it better to put sand or water in a basketball hoop?
If you need to move your portable hoop daily, we will recommend filling the base with water. The reason is that the water is cheaper and easier to put & drain as compared to sand. The only downside of water can be evaporated, but you can refill the water, but the sand filling is tough.
7. Is the 72-inch backboard too big for the driveway?
The 72″ backboard size is the biggest backboard size that is usually used in high schools and colleges. Moreover, it depends on your driveway, like if you have one car driveway, we will recommend you 54″ backboard hoop. Similarly, if you have enough space for a driveway, you can go with a 72″ backboard.
8. How many bags of sand do I need for a basketball hoop?
It depends upon the base size of your hoop. If your basketball hoop's base size is 35 gallons, you need to buy ten bags of 50 pounds for each sandbag. So you can buy sand from any home supplies or hardware store. Similarly, if you have a big base hoop, then adjust the sandbags accordingly.
9. How do you keep a portable basketball hoop from falling?
You can avoid basketball hoop falling by adding extra sandbags, using base gel with water, and ratchet straps.
10. Are portable basketball hoops easy to move?
Yes! The portable basketball systems are specially designed for easy transportation. Moreover, a straight pole basketball hoop is easy to transport as compared to an angled pole. Make sure to remove the water or sand from the base for making transportation much more manageable.
11. How do you keep water from freezing in a portable basketball goal?
You can add 1 gallon of good quality antifreeze into the water in the basketball hoop base to avoid freezing.
12. How to keep your best Portable basketball hoop for a driveway in good shape for longer?
As we know that Portable basketball hoops are mostly used outside and also left outside. So in case if there is a strong wind, you should save your hoop into the garage.
Moreover, if you want to play in windy conditions, then keep the hoop height minimum. Finally, keep checking your hoop conditions and repair the spoiled elements on time to keep them in good shape in the longer run.
13. Can I convert a Portable basketball goal into in-ground?
Yes! But while doing this you need to be extra careful. For this purpose, you need approx. 2 days plus some tools like a screwdriver, ladder, wheelbarrow, jackhammer, hacksaw, and shovel.
You need to disassemble your portable basketball hoop system and remove the base. Furthermore, you can use the direct burial method by digging a 4 ft. hole so that the hoop stays upright.
After that fill the gap around the pole with cement and let the cement dry before installing other components.
Concluding this guide, if you want a hoop for your kids, we would recommend Step 2 Shootin Pro. Moreover, Silverback NXT 50″ could be a better choice if you want to assemble a hoop in 90 minutes. Furthermore, you can try Spalding Glass Hoop for the full-fledged professional game. Lifetime 1221 Pro is ideal for playing in the backyard.