Picking up the best indoor basketball is essential, whether for family fun or serious competition. But a poor quality basketball with inconsistent bounce can minimize your enjoyment and practice drills.
Moreover, if the ball doesn't hold air, softer feel, and comfortable grip, it would be a horrible nightmare. Therefore, we review the top 10 indoor basketball for you after keeping all these aspects in mind and researching thoroughly.
Editor's Picks
Wilson Evolution
9.7/10
Baden Elite
9.5/10
Spalding NBA Official
9/10
Best Indoor Basketball Reviews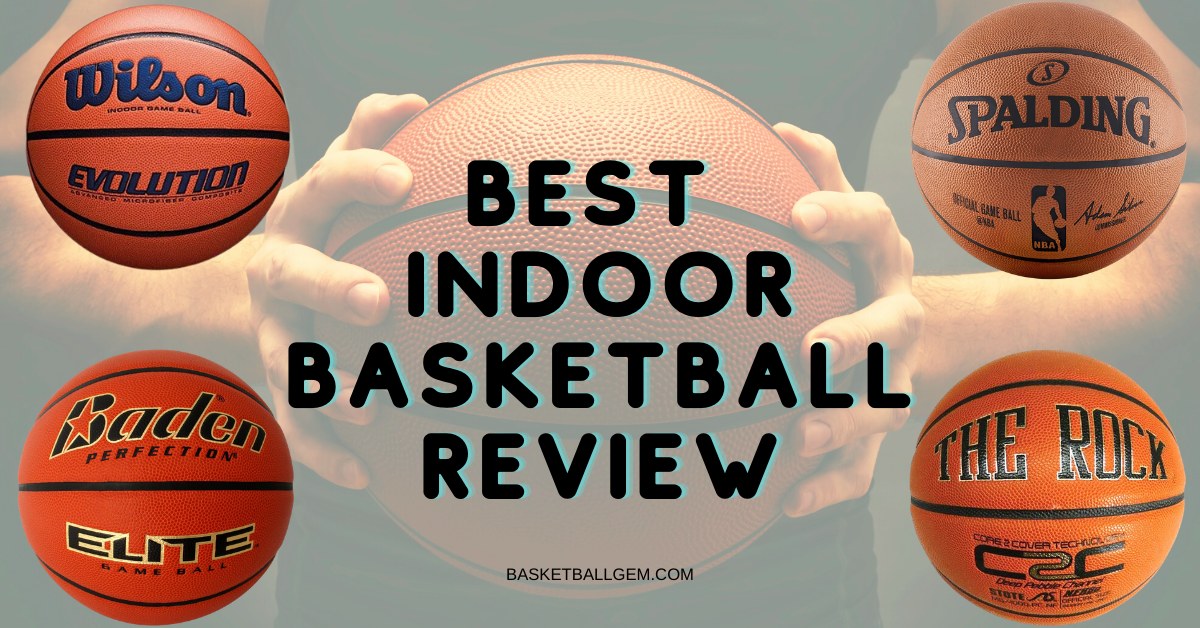 List of Top 10 Best Indoor Basketball
1. Wilson Evolution – Best Indoor Basketball Overall
This number one US-manufactured navy blue basketball is famous for its cushion core carcass that provides a softer feel with a comfortable grip.
Moreover, it is made up of a premium Evo Microfiber composite cover that gives maximum durability to last all season.
Furthermore, the official size Wilson ball gives you the ultimate control over the court's surface with its consistent texture that players love. Most importantly, this ball is approved by (NFHS), and it is preferred at the high school level across the country because of its exceptional performance.
2. Baden Elite – Best Indoor Basketball for Training
This emerging basketball brand is making its name in the sports industry because of its quality products. 
Especially, This Elite indoor court ball is designed with premium material to provide a professional feel.
Moreover, advanced microfiber Technology increases its playability and grip because it doesn't absorb moisture and provides tack and softness balance.
Also, its unique symmetrical panel construction helps in providing a more consistent bounce every time. Furthermore, You can't detect the NBA's official size basketball valve during gameplay because of its recessed stealth valve. 
Lastly, this cushioned control ball is suitable for both men and women; that's why preferred at college and high school level.
3. Spalding NBA Zi/O – Best Uni-Sex Basketball
Spalding NBA Zi/O is at number two and one of the top-selling basketball because of its soft spongy feel and full grip.
However, this ball has some sticky feelings, too, but many indoor professionals still prefer it. Moreover, this ball has excellent, consistent bounce even at 7psi so that you can easily practice your fancier moves.
Furthermore, the NBA Zi/O is durable and lasts for many seasons as it is made up of Polyester material. Lastly, it provides an incredible feeling because of the composite foam plus deep pebbling that is excellent for moisture-wicking.
4. The Rock C2C- Best Basketball for all American Games
The Rock basketball gained popularity among many professional players because of its core to cover technology and approved by NFHS.
Moreover, this technology provides an excellent feel with a super tacky genuine leather and a cushion-backed cover of this basketball.
Additionally, The Rock basketball enhances your ball handling experience with its sponge rubber interior. Furthermore, its deep pebbled design provides complete control over basketball plus solid grip with 100% nylon winding. 
Mainly, the rock basketball provides ideal bounce with consistency by maintaining maximum air retention and promised durability.
5. Wilson Evo NXT – Best Indoor Basketball for Enthusiast Players
NXT is the combination of Wilson Evolution and Solution that is popular in enthusiast players nowadays. Its extended range tech features allow you to shoot from a long distance by maintaining weight and balance. 
Moreover, Microfiber Technology provides a moisture-free gaming experience with its double-layered grip pebbled cover.
Furthermore, it has laid-in channels that are crafted with 100% composite leather to provide extra control. The bottom line is, NXT has a super softcore with extra cushioning that helps in providing a deeper grip and excellent feel.
6. Spalding Rookie Gear – Best Indoor Basketball for Youngsters
If you are a beginner-level young boy and want to master basketball, give Spalding Rookie Gear a try.
Moreover, this 27.5 Inches basketball is 15% lighter in weight than regular-sized youth basketball plus provides excellent dribbling and shooting experience. 
Furthermore, the Rookie has a premium-quality composite leather cover that helps steady bounce both indoor and outdoor. Especially, this ball is durable and allows you to play for many years, plus give you top-notch quality feel with its addicting texture. 
Besides, you can trade-off between two available colors. Therefore you can choose the brown color for authentic gameplay vibes or a multi-colored ball to stand out from the rest. 
7. Spalding NBA Official – Best for Professionals
This gold standard basketball is made up of top-notch quality grain leather used at professional level indoor games.
Furthermore, the NBA logo-enabled basketball gives you goosebumps of your favorite basketball hero and motivates you to play like him. Mainly, it fulfills the weight and size criteria of the NBA strictly and provides ideal consistent bounce.
Moreover, this ball has excellent durability, and instead of declining, it gets better with age and lasts for a longer timespan. Most importantly, it comes inflated for instant playing and has wide channels to provide a natural feel and excellent grip.
Lastly, this NBA game ball performs better for the hardwood, so take it to the gym now and make your dream comes true.
8. Spalding NBA Replica – Best for Dribbling
This replica basketball has a tacky and soft exterior that provides a great feel in the palm and forces you to play for hours. 
Moreover, this basketball's grip is not similar to the official NBA game ball but provides a solid grip with deep channels.
Furthermore, the bounce consistency is best for outdoor and indoor and provides an ideal bounce at an air pressure of 7.5 PSI. Additionally, it has high durability indoor as compared to outdoor because of its exceptional softness.
Lastly, if your primary intention is to play indoor and sometimes outdoor, I recommend giving it a try.
9. Spalding NBA Tack Soft – Best Affordable Indoor/Outdoor Basketball
Tack Soft is the material used in this basketball to increase the ball's softness and feel. This material also enhances your fantastic grip experience and gives you complete ball control so that you can practice your favorite shots comfortably. 
Moreover, it provides maximum durability with its ultra-tough premium PU composite cover. Furthermore, its effectiveness and shape will remain active for a long time, no matter if you regularly play with it.
One Negative is moisture management is average, but the performance remains excellent. Lastly, this ball comes fully inflated from the manufacturer, and you can start using it after you received it. 
10. Spalding TF-250 – Best Basketball for all Surfaces
If you are looking for professional, feel affordable basketball, Spalding TF-250 is the best choice because it's ideal for all surfaces, whether indoor or outdoor. 
Moreover, the TF-250 provides incredible bounce and complete ball control with high-class synthetic leather cover material.
Furthermore, this ball gives an excellent grip for dribbling and resists moisture with all surface composite leather. Mostly it comes and remains inflated for a longer time; that's why you don't need to carry the air pump with you.
Lastly, it is highly durable and provides perfect texture with its rubber-based wide outer pebbled channel design.
Best Indoor Basketball Reviews Exclusive Buying Guide
Basketball is an essential gear to learn this sport compared to other pieces of equipment like a hoop. Why? Because you can practice dunking and shooting drills with a hoop, but without basketball, you can not master this sport.
However, there are several basketball options available in the market, having different features to attract more customers. Therefore, we are writing this guide on choosing the right and best indoor basketball for all levels, including professionals, youth, kids, etc.
Things to Consider While Buying Indoor Basketball
If you want to buy the best indoor basketball, then consider these main features to choose basketball.
Size:
Firstly, you have to decide which size of basketball do you need? There are three sizes available in the market. Therefore, choose the right size according to your need.
Size 5: In this size, the ball's diameter would be 27.5 inches, the standard size for youth and age range between 9 and 11.
Size 6: The ball's diameter is 28.5 inches in size 6. It is a standard size for 12 to 14 years old girls and boys. 
Size 7: It is the official NBA size having a diameter of 29.5 Inches. This size is recommended for men and boys that are 15 years or older. 
Weight:
The weight of any basketball is responsible for the dribbling and shooting experience. Therefore, it's recommended to choose the basketballs with official weights as we reviewed above. 
Material:
The material of the basketball is the main thing to consider before buying a basketball. Why? Because there are various materials for indoor and outdoor basketballs. Mainly there are three types of materials used in basketball's manufacturing:
Rubber: Mostly used for outdoors
Composite Leather: It is used for indoor basketballs
Genuine Leather: Normally used in NBA official game balls.
Therefore, indoor basketballs are usually made up of high-grade full-grain leather or softer composite leather. The softer material is easy to grip but takes time to wear-in on indoor courts. Moreover, The outdoor basketballs are made up of stiffer composite leather and sometimes rubber material. 
Why? Because the harder material provides less grip required in outdoor rough and rugged courts and can be used straight out.
Grip:
Sweating is very common while playing basketball that can lose your grip on the ball. Moreover, the little grip can make your dribbling, palming, and shooting more harder.
Therefore, high-quality basketballs use moisture absorbing and deep pebbled channels technologies to provide maximum control over the ball. That's why you should buy indoor basketball that has the maximum grip to increase your performance. 
Feel:
An excellent indoor basketball provides a soft feel while releasing, passing, and dribbling the ball with better cushioning. Moreover, low-quality basketballs are usually too firm. Therefore, you should choose a ball with the best cushioning.
Bounce:
A ball without having ideal bounce is considered cheap basketball. However, it could be due to deflation or the low quality of the basketball. Therefore, A ball with reliable and steady bounce would be an ideal choice. 
So we would like to recommend you the ball that performs steadily with a moderate quantity of air because the balls that need full air pressure are harder to shoot. Furthermore, there is a rule of thumb to check the bounce of your basketball.
Firstly, bring your basketball up to your face level and then drop it freely. Now, if the bounce is equal to your waistline, then the bounce is ideal. Moreover, if it is over the waistline, it is over-inflated. Lastly, if it is below the waistline, then it needs to be inflated.
Air Retention:
If the ball's pressure varies between 7.5 and 8.5 PSI, then it is up to the NBA standard, then you don't need to worry. Otherwise, a ball with constantly losing air and needs to be refilled would be a headache for you. 
Therefore, a decent indoor basketball needs to inflate only in winters due to temperature drops; otherwise, perform consistently without needing any air pump.
Air Pressure:
It would be best if you make sure that the ball should be inflated appropriately to recommend level. Therefore, you need to check the manufacturer's recommended air pressure range and fill it accordingly. 
Durability:
Indoor basketball should have a longer life span than outdoor because they are more expensive than outdoor balls. Moreover, if your ball isn't long-lasting, you need to replace it every year or half. Therefore, the durability of basketball is also an essential factor that you should consider while purchasing.
Budget:
You should know your budget because indoor balls are usually made of composite leather, which is quite expensive.
Therefore, this high-quality material used in indoor balls costs you more. Usually, a decent quality indoor basketball costs you $50 to $100 and sometimes more depending on the ball's quality.
Tips to take care of your Indoor Basketball
First of all, you should know the manufacturer's guidelines for basketball. If your game ball is suitable for indoor use only, then don't play with it outdoor.
Because doing so will tear up your basketball's upper surface and make it less smooth because indoor balls are made up of soft material compared to outdoor. Don't kick your ball into the wall hardly; otherwise, the eggs can appear on the sides of the ball.
If your ball is designed for indoor/outdoor use, you should avoid playing on dusty and dirty courts. Moreover, clean your ball after playing outdoors with a dry towel; otherwise, it can minimize your grip experience and ball control. 
Lastly, never allow your leather ball to get wet in any situation; it will affect your ball's integrity. You can increase the durability of your ball after following all these precautions.
Frequently Asked Questions (FAQ)
1. What is the best basketball for indoor?
There are a lot of basketballs available in the market, but the best indoor basketball is the following:
Wilson Evolution Official

Baden Elite 

The Rock C2C

Wilson Evo NXT

Spalding NBA Official
2. What is the best indoor outdoor basketball?
In case you are searching for the best outdoor/indoor basketball, then the best is the following:
NBA Zi/O Spalding

Spalding Rookie Gear

Replica NBA Spalding 

Spalding NBA Tack Soft

Spalding TF-250
3. Can an outdoor basketball be used indoors?
Yes! You can use it, but it can affect your gameplay. Like you might not get the complete ball control, dunking drills, and quality of shots. However, the durability of the ball would be satisfactory.
4. Is Wilson or Spalding better?
Wilson and Spalding are famous sports brands and manufacturers of good quality basketballs. Therefore, it's an individual choice whether to choose Wilson or Spalding. 
However, If you have the extra budget, you can try Spalding NBA official basketball; otherwise, Wilson can provide you with the premium quality ball at a reasonable price.
5. Are rubber basketballs excellent or bad?
On a positive note, If you play outdoor on the rough blacktop courts, then the rubber basketballs are more durable with excellent grip. Moreover, if you want to play indoor with rubber balls, it's a little harder to grip and fully control them.
6. Is there a difference between indoor and outdoor basketball?
Yes! The main difference between them is the material used in crafting each ball. Indoor balls are usually made of Composite leather material, while outdoor balls are made of rubber or hard composite material.
Moreover, indoor balls have a softer feel as compared to outdoor balls. Furthermore, the indoor balls require time to break-in while outdoor balls are ready for immediate use.
Lastly, if you use an indoor ball outside, it would start tearing up because of the soft outer surface. However, you can use outdoor ball indoor, but it might affect your shooting experience and grip. Therefore it's not recommended to use indoor balls outside and vice versa. 
7. Should I wash my basketball?
Yes, you can wash it but don't forget to take some extra precautions. Moreover, if you want to wash it with dish soap and water, then make sure to rinse away all the residue of soap.
However, the drying time of each ball may vary. Finally, follow the manufacturer's instructions about washing the basketball to avoid any damage.
There are hundreds of options available in the market, but we would like to suggest the best indoor basketball available in the market. Firstly, the Wilson Evolution is the best indoor basketball overall. 
Furthermore, young kids can try Spalding Rookie Gear. Moreover, Spalding NBA Offical basketball has no match if you are a professional player. Lastly, if you want basketball for indoor/outdoor, you can choose Spalding NBA Zi/O or Spalding NBA Replica.