The highest vertical jump in NBA or any other game adds a sense of excitement that viewers love. Athletes who can jump high are usually associated with the game of basketball. Therefore, dunks are one of the best parts of sports since they provide the most action.  
As an NBA lover, you will undoubtedly witness moments where the athletes seem to be floating, moments where their achievements seem to be making a huge impact. Exclusively, the highest vertical leap in the NBA is 48 inches, which belongs to Michael Jordan. 
Moreover, The U.S. Olympic team tested Jordan's vertical jump while on tour in 1984. Participants at the event confirm Jordan's 48-inch vertical achievement. Over time, some guys have carried their fans off their feet with their hops. 
Let's look at the top 10 players in NBA history who had a high vertical leap.
Highest Vertical Jump in NBA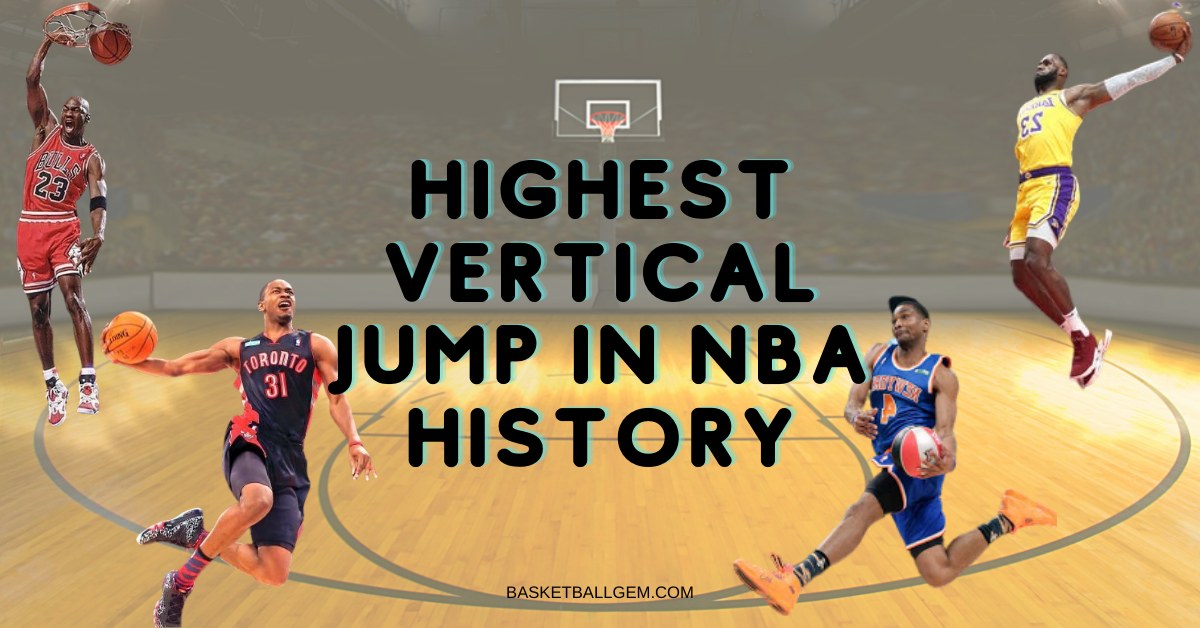 NBA history has witnessed the increasing importance of high jumps.  Dunks have become more popular since their emergence. Due to the NBA's view of dunking as an insult, it rarely practiced it in its early days. 
So, in general, the vertical jump ability of a player was not considered necessary. However, bill Russell and Wilt Chamberlain are two big names in the league who introduced the dunk in the early 1960s. 
The vertical jump is now moving towards being more accessible to all athletes, but some progress is still expected because the tallest players use it.
In the 1970s, high-flying dunks became more and more popular. 'Dunking' was introduced to the modern era by players such as Darryl Dawkins and Julius Erving, and along with it, vertical jump importance.
Highest Vertical Jump in NBA List
1. Michael Jordan – 48 Inches
Among all the players to merit receiving the nickname 'His Airness,' Michael Jordan is the most deserving. A 48-inch vertical leap places Jordan at the top of our list. The hang time for this is 0.92 seconds. 
During the 1988 All-Star Weekend Slam Dunk Competition, Jumpman won with a perfect score of 50 due to an all-time incredible dunk from the free-throw line. His athletic abilities were evident in pretty much every game he played during his career. 
The talent of Mike made him a superstar among all the kids in the country. Although he tied Darrell Griffith, the tape doesn't lie, so we can't just ignore it. 
Jordan had a way of moving that was effortless and so sporadic even among the elite. But, of course, it means he had a higher peak elevation than Griffith as well, given that he was two inches taller.
2. Darrell Griffith – 48 Inches
This former Jazz player may be unfamiliar to the vast majority of NBA fans. However, Dr. Dunkenstein is Gregory Griffith's nickname while he was at Louisville, where he also enjoyed a prosperous NBA career.
Griffith could elevate his head 4 inches above the rim with his height of 6'4″, with a vertical leap of 48 inches. However, in contrast to some of the well-known names on this list, he did not win any Dunk Contests.
His 11-year career with the Jazz saw him develop into an uber-athlete, and the franchise he played for throughout his career has recognized his talents by raising his jersey to the rafters. Although he has a 4-foot vertical, most fans probably haven't heard of him.
3. Jason Richardson – 46.5 Inches
Jason Richardson was selected with the 5th overall pick by the Golden State Warriors in the 2001 NBA draft. However, at the Draft Combine, his vertical leap measurement was abysmally low (39.5 inches). 
However, he demonstrated solid athletic ability in the eye test. During the 2002 and 2003 All-Star Weekends, Richardson won back-to-back Slam Dunk Challenges. Later, it was determined that his real vertical leap was 46.5 inches. 
His 6'6″ height gave him 4.5 inches of extra height above the rim. A reverse 360 between-the-legs slam dunk by Richardson in the 2003 Dunk Contest has become one of the contest's most iconic dunks. 
Despite his retirement from basketball in 2015, Richardson is still one of the most adored Warriors. His 243 three-pointers made during the 2007-08 regular season set Warriors record before that record was blown away by a certain Splash Brother. He failed to achieve stardom due to an injury-plagued career.
4. Anthony Spud Webb – 36 Inches
In 1986, Anthony Webb entered the Slam Dunk Contest as a rookie and took the NBA world by storm. But, unfortunately, his team's top dunker, Dominique Wilkins, wasn't aware of how often he dunked. 
In addition to his impressive 46-inch vertical, 5'7″, Webb showered the crowd with a variety of dunks that sent the crowd scrambling for 10s, and he ended up beating Wilkins in the end. 
Among the few players who have dunked without palming the ball, Webb is one of them. The short Spud Webb has achieved a lot as a basketball player despite his height. 
When he entered the NBA Dunk Contest in his rookie year, his jump height was on display. Spud Webb jumped 46 inches vertically despite standing 5'7″ tall. He slammed an assortment of successful dunks with his nearly 4 foot vertical, ending his victory over fellow teammate Dominique Wilkins.
When Spud jumped, only 5 inches separated the top of his head from the rim, an incredibly stunning display of athleticism for a guy his size. As a player, he was also one of the few never to palm a basketball when dunking in the NBA.
5. James White – 46 Inches
Despite only playing in the NBA for sporadic periods and having previously played overseas, James White is eligible for this list because he has appeared in the NBA. 
His NBA career began when he signed a contract with the Portland Trail Blazers and was later waived. Then he was signed by San Antonio Spurs, and he played six games with them before being moved to the Austin Toros of the D-league. 
For most of White's NBA career, he played for the New York Knicks in 2012-13, appearing 57 times. A 6'7″ James White could reach a height of 5 inches above the rim, boasting a vertical leap of 46 inches. 
White's impressive leaping ability allowed him to win the Turkish dunk contest while playing for Euro-league club Fenerbahce. However, despite his remarkable leaping and dunks, he never became a concrete contributor to his teams.
6. Zach LaVine – 46 Inches
LaVine was selected to the Minnesota Timberwolves 2014 NBA draft as the 6th overall pick. During his draft combine, LaVine struggled to achieve the 55-inch vertical he eventually reached; however, Zach LaVine's subsequent vertical leap measure was 46 inches. 
In both 2015 and 2016, LaVine won back-to-back dunk contests, and his measurement of 6'5″ readily allows him to go 2 inches above the rim when attempting a dunk. 
Despite stiff competition from Aaron Gordon in 2016, where there were two tie-breaking rounds between LaVine and him, LaVine dunked from the free-throw line several times. 
LaVine's exceptional athleticism represents the Chicago Bulls franchise. Moreover, it has been a disappointing season for most of the team, and he continues to be the only light. However, his talents go far beyond dunking the ball.
7. Shannon Brown – 44.5 Inches
During the Los Angeles Lakers' regime, Shannon Brown was little more than a bench player. However, as a member of the Purple and Gold brigade, Shannon Brown experienced many memorable moments. 
The Mamba was directly replaced by him when he won 2 NBA titles alongside Kobe Bryant. Shannon Brown's vertical leap has been recorded at 44.5 inches. Brown can raise his head above the rim with his height of 6'4″. 
A dunk he scored against the Dallas Mavericks stunned even Bryant, who looked on in awe. Most of his time was spent playing in the G-League, but he was never an effective rotation player.
8. Muggsy Bogues – 44.3 Inches
Since he is 5'3″, you may not expect him to appear on this list. However, he played 14 years in the league because of his crazy bounce and athleticism. A career-high of 10 assists was earned by Bogues twice. 
Even though he has never shown it off in an NBA game, he has claimed that he can dunk with ease. Having such a high jump and being so athletic, Bogues was able to dunk the ball regularly. 
With a vertical of 43.3 inches, Bogues achieved great success in a league of giants, even when he played next to 7'7" center Manute Bol.
9. Harold Miner – 44 Inches
The Miami Heat selected Miner with the 12th pick overall in 1991 after he had played at the University of Southern California until his junior year. 
He was named 'Baby Jordan' by many journalists thanks to his skill set and athleticism, which caused more pressure on Miner than he would have liked as he entered the league. 
In the NBA, Miner only played four seasons, including one season with the Cavaliers in 1995-1996, in which he only made sporadic appearances during garbage time. 
However, he won the Slam Dunk contests in 1993 and 1995, and those wins will be the memories most associated with him. The best jump Miner could leave his head just an inch below the rim level with his 44-inch vertical leap and 6'3″ height.
10. Dee Brown – 44 Inches
He won the 1991 Slam Dunk competition during his rookie year before earning a lot of attention. He performed no-look dunked over his right elbow with his left hand, covering his face (including his eyes). 
Social media have credited this as the first "dab" in public memory ever since. In the 1990 NBA draft, Brown was the 19th pick in the first round and spent his first eight seasons with the Boston Celtics. 
Dee Brown can put his head up to less than 3 inches below the rim, even at the height of 6'1″. His vertical jump measures 44 inches.
11. Andrew Wiggins – 44 Inches
Drafted by the Cleveland Cavaliers with the #1 pick in 2014, the Canadian center is making waves in the NBA this year. While he was a junior and senior high school student in Canada, his uber-athletic frame made him a top recruit to almost every Division 1 college, and he joined Kansas Jayhawks as his college team. 
With four seasons in the NBA, Wiggins has demonstrated his exceptional athletic ability. Wiggins can put his head four inches above the rim despite standing just 6'8″ and having a vertical leap of 44″. 
Although Wiggins is highly athletic and has a solid build, he missed entering the Slam Dunk Contest.  Although the window for him to appear in a Dunk contest is closed, don't be surprised if he makes an All-Star team someday in his career.
12. LeBron James – 44 Inches
The King, LeBron James, is the best player ever regarding leaping and overall athletic ability. He possessed a rare combination of strength, speed, size, and skill, resulting in one of history's most significant career accomplishments. 
Compared to His Airness, he is only four inches lower than the rim because of LeBron James's 44-inch vertical jump. James has an advantage of two inches over Jordan in height.  
But Lebron is not the most dominant ruler of the sky!  Lebron seems like he was designed for flying south; I have no idea why all the hype this past summer was about him. 
Whether you include him as one of the highest vertical jumpers in NBA history or not, he is a supreme athlete and one of the best dunkers in the league.
Frequently Asked Questions (FAQ's)
1. Who has the highest vertical jump in the NBA 2021?
The NBA record for the highest vertical jump in 2021 belongs to Dennis Smith jr. There is no reason not to believe that his vertical was measured correctly at 48 inches. When he was a rookie, he did not make all of his dunks the first time he attempted them. It looks like he has springs installed at his feet.
2. Who has the highest vertical jump in NBA history?
Michael Jordan is the most deserving player to receive the nickname 'His Airness.' We rank Michael Jordan's vertical jump as the highest vertical jump in NBA history, thanks to his 48-inch vertical leap. There was a 0.92 second hang time for this.
3. What was Kobe Bryant's vertical jump?
Kobe Bryant's vertical jump is 38 inches high.
4. Is a 50-inch vertical jump possible?
Among Evan Ungar's accomplishments are a 63.5-inch standing jump record and a nearly three-foot vertical leap. However, by the time athletes reach 50 inches of height, it is almost impossible for them to jump higher.
5. What is Zion Williamson vertical?
Zion Williamson, who is 6'6 and 284 pounds, can jump 45 inches in the air! It has been reported that Zion Williamson has recorded one of the highest vertical jumps in NBA history!
6. What is Steph Curry's vertical?
The maximum vertical jump of Steph Curry is 41 inches.
7. Did Wilt Chamberlain have a 50-inch vertical?
A 48-inch vertical jump is reported to have been possessed by Wilt Chamberlain. A few years ago, he explained to an interviewer that he stood 46 to 48 inches tall in his prime. Simple as that! He was the tallest person in history, considering his stature.
It's no question that an NBA player comes to mind when thinking about the athletes with the highest vertical jump. However, who has the record for jumping the highest? To answer this question definitively, I researched information and stories about athletes from the past and present. 
The answer was not surprising in the end. Legendary basketball player Michael Jordan was famous for his ability to fly through the air. He has accomplished many career accomplishments and is now the NBA's record holder of the highest vertical jump. 
Audiences always enjoy watching vertical jumps. Their favorite thing about players who jump high is when they attack or defend. This way, the whole basketball community can be impressed by these world records.