Passing in a basketball game counts as an assist if the shot taken from the pass is successful. Statistics of assists in basketball are subjective, meaning the scorekeepers will decide whether a pass meets the criteria for an assist or not.
Assists may be earned for the passer even if they receive the pass scores after dribbling the ball. Passes that result in shooting fouls and free throw does not count as assists in the NBA.
Additionally, FIBA only awards one assist for a set of free throws in which at least one shot is made. The role of a point guard is to pass and try to catch the ball. It makes them the most likely to get assist per game.
To understand truly what an official assist is, let's examine the types of assists, assist percentages, assist-to-turnover ratios, etc.
What is an Assist in Basketball?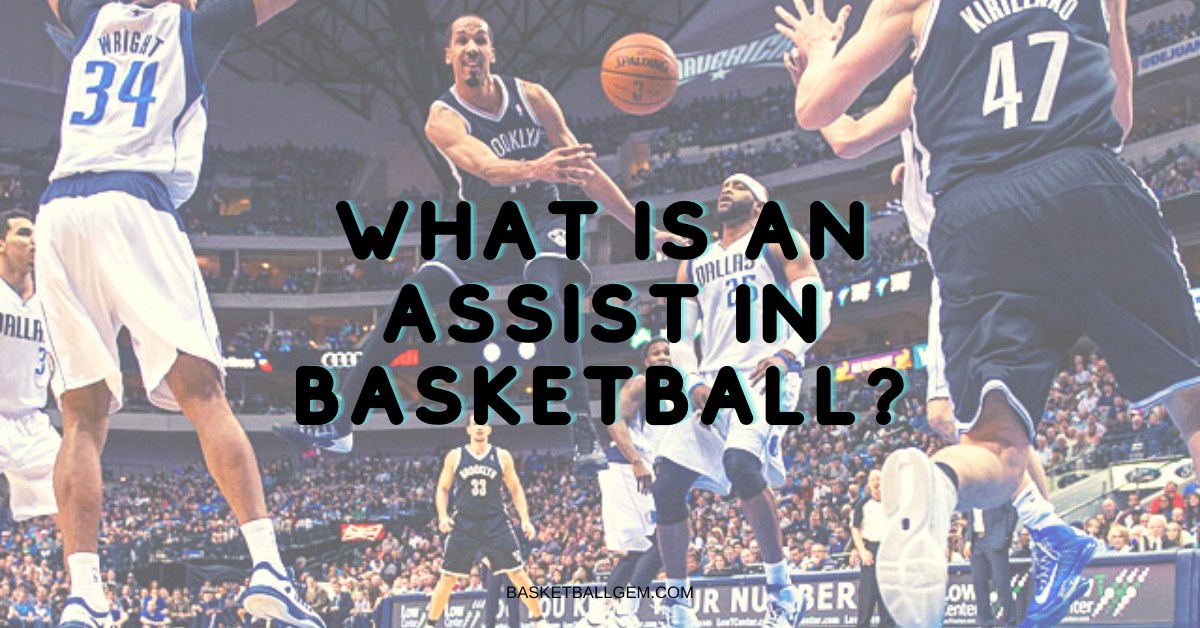 According to research, statistics play a major role in basketball. These metrics often measure a team's overall performance and the achievements of individual players in that team. We tend to hear about "points scored" the most since it determines the game's ultimate winner.
The commentator often discusses assists during basketball games. With the advent of the NBA, assists have become the most prominent stat of all positions. An assist in basketball carries more importance than in sports like football. Therefore, the more assists a player gets, the more valuable he becomes.
There are different definitions for basketball assists depending on the league in which the player participates.
What is an Assist in NBA?
An assist is credited to a basketball player in the NBA if the player passes the ball to his teammate and the other teammate scores the basket directly. In the NBA, assists are awarded to a player who passes the ball to his teammate who immediately possesses the ball and scores a goal. It does not matter how a player took many dribbles after the pass is made in the NBA.
Types of an assist in NBA
Various types of assists are made in NBA basketball; they include:
Illegal Assist
During this type of assist, players cannot contact or interfere with the ball while it is already on the basket's rim. For example, the assist would be illegal if the ball is present on the rim and a player then suddenly puts the ball in the basket to ensure the score.
An illegal assist is a violation, resulting in the ball being awarded to the opposite team at the free-throw line extended.
Secondary Assist
When a player shoots the ball successfully, his teammate passes that is known as a secondary assist. If the ball is passed by assisting the player within two seconds and at most one dribble, it is considered a secondary assist.
Free Throw Assist
It occurs when a player passes a ball to another teammate, and the one holding the ball gets fouled by another player on the opposing team. A player may be fouled after four seconds or for dribbling twice.
So, all these three types are classified as an assist in basketball.
What is an Assist in College Basketball (NCCA)?
Assists in college basketball are handled differently from the NBA, where either a home surveyor or a statistician needs to judge. When a player passes the ball and contributes toward a field goal, the player is awarded an assist in the NCAA game.
Free throws do not qualify as field goals. No matter if the field goal is a two-pointer or a three-pointer, the official will award only one assist to the player who passed the ball.
Yet, it is up to the surveyor to determine whether they he credit the player with an assist. In some cases, the surveyor can disregard the pass by saying that the passing was too regular and therefore did not allow for an assist.
What is Classified as an Assist in Basketball?
Do Inbound Passes Count as Assist?
In the NBA, when an inbound pass is the last pass before a field goal is made, it is credited to assist. It is the general rule and also applies in the NCAA. When the statistician considers the Inbound as the most vital work of a play, the referee will consider it an assist. If a player inbounds the ball but has to make a tactical maneuver to get free, an inbound pass won't be considered an assist.
How Many Dribbles are Allowed for An Assist to be Awarded?
In both the NBA and NCAA, there are no dribble restrictions on assists. Both leagues have some aspects of the assist rules that won't allow for many dribbles despite no dribble limitations.
In NBA assist rules, the player receiving the pass must act immediately in a way that indicates their intent to score. That's why a player taking too many dribbles without shooting becomes unintentional and does not serve the purpose of scoring immediately. Due to this, the assist will not apply.
The NCAA assists rule states that the pass must constitute a crucial game component leading to a basket. In this case, the pass does not constitute an integral part of the receiver must dribble excessively to gain freedom. That would lead to no reward for the assist.
Who gets the most assists in a basketball game?
Just like football, you can't always rely on the placement of players on the court to make an assist in basketball.
Point Guards
The point guard makes an average of four assists in each game. These players are the ones who score a lot of assists because they are the ones to handle and pass the ball.
Related: List of Top 10 Basketballs
Center Position Players
Players in the center position always have the ball inside the court, so they have the best position to assist. Their role is considered to be important either as a scorer or a final line of defense.
Famous Assists in Basketball?
Why are assists important in basketball?
A player's assists are useful, but they should not be viewed as the sole measure of his offensive skill. Tracking assists is a good indicator of someone's versatility.
A player with high scoring and assist total may be more of a threat than someone with just one of those attributes. Coaches may well consider a player who assists a player. They can trust to have the ball and run a good offense.
To that end, assists can only be meaningful when combined with other statistics if used within an appropriate context. A player's total assist should not be the sole metric used when judging him/her.
What is a screen assist in basketball?
This measure identifies how many times a player or team has set a screen for their teammates resulting in them making a field goal.
What's an assist in basketball called a dime?
In basketball, a "dime" is the same as an assist. Those who do not know, an assist in basketball occur when one player passes to their teammate, leading him to go for a basket. This player has played a role in making the basket by passing the ball to his teammate.
What is Assist to Turnover Ratio in Basketball?
By comparing assists to turnovers, we can evaluate a player's efficiency. You can use it to measure ball control. Lower AST/TO values indicate less ball control. A higher AST/TO number indicates increased ball control.
It may be a sign of better ball control if a player makes more assists and has fewer turnovers. A player making few assists and committing more turnovers would have a low Assists to Turnovers ratio, which translates to less ball control.
Note: It does not matter how many points are scored.
How to calculate the assist to turnover ratio in basketball?
Using the formula below, assist to turnover ratios can be determined.
Assist to Turnover Ratio = Assists ÷ Turnovers
or
Assist to Turnover Ratio = AST ÷ TO
Example
A player has recorded 36 assists and 6 turnovers during a basketball game. Calculate his assist to turnover ratio.
Solution:
Number of assist (AST) = 36
Number of turnovers (TO) = 6
AST/TO = 36 ÷ 6
AST/TO = 6
In that case, the Assist to Turnover Ratio for this player is 6.
What is a good assist to turnover ratio in high school basketball?
At least a 2:1 assist to turnover ratio is a minimum benchmark for a team at any level. Likewise, if your team makes 15 turnovers, you should score at least 30 assists. As a result, a great performance would be accompanied by a higher assist rate and a lower turnover rate.
Frequently Asked Questions (FAQ's)
How many dribbles can you take for an assist?
If the player's pass and resulting basket led to a field goal, the player is credited with the assist. In general, scoring an assist allows two or fewer dribbles.
What is not an assist in basketball?
NBA officials don't count as assists pass that lead to a shooting foul and free throws. However, assists in FIBA play count when there is at least one free throw made in a set of free throws.
Who has the most all-time assists in the NBA?
The all-time leader in assists is John Stockton, with 15,806. Despite having decent career records, Jason Kidd and Steve Nash are nowhere near Stockton's. With an average assist per game of 11.18, Magic Johnson is the NBA's highest assister.
Who leads the NBA for the most assists in a single game?
With 30 assists in one game in 1990, Scott Skiles broke the record of most assist in a single game.
Which team leads the NBA for the most assists in a single game?
On December 26, 1978, the Milwaukee Bucks held a record of 53 assists in a single game in the NBA.
How many points is an assist?
A teammate who helps another player make a two-point basket receives about 25% of that basket's scoring possession. Additionally, the person who has the basket receives roughly 75% of the scoring possession for that basket.
Final Words
In basketball, assists contribute significantly to the performance of a team. During a basketball game, an assist is more than just "a pass." Therefore, here are the several assists types in the basketball game.
Everyone can be a great basketball player, regardless of physical abilities or physical endurance. Usually, a quick presence of mind and a steady vision will be helpful, especially if you are vying for an assist. Trust, responsibility, and bond make the team cohesive, resulting in a winning team!